So... you've found an incredible woman and you're planning to propose.
Now all you need is the perfect ring... one that she'll love the moment she sees it…and for the rest of her life.
...But with so many decisions to make (band, ring type, stone shape, stone color) and so much industry jargon (pavé, halo, princess, cushion) engagement ring shopping can be an incredibly intimidating process.
But here's the thing:
Just like with most things that are intimidating and/or difficult, a clear, actionable plan will make your search both less stressful and a whole lot easier.
So, to help you find the perfect engagement ring, I've put together 5 clear and highly actionable steps for you to follow.
They're all designed to help you easily and discreetly find the ideal ring for your girl's style and personality.
This post was made possible by the engagement ring and diamond experts at James Allen.
5 Steps to Buying an Engagement Ring Your Girlfriend Will Love
Now:
Every girl has her own unique taste in jewelry (meaning every woman will have her own "perfect" ring.)
...So you might be wondering, where do I even begin?

Well, the secret to finding the perfect ring for your girlfriend is to figure out not just her jewelry preferences, but also her overall style.
Step #1: Analyze her Pinterest
Goal: Get an idea of her overall style
If you want to understand a girl's style, one of the best places to look is at her Pinterest boards.
In case you don't know, Pinterest is a virtual pin board where people "pin" websites and images that they like. It's an incredible tool for determining your girlfriend's overall style, because it's literally a handpicked collection of things she likes.
As an example, here's what one Mantelligence's Pinterest boards looks like:
Now, that board was obviously dedicated to "The Great Outdoors"... but to help you find the perfect engagement ring, see if your girlfriend has a board focused on something like:
Jewelry
Clothing
Style
Celebrity rings
Etc.
Then use her pinned images to get a better idea of her overall style, and some inspiration for her perfect engagement ring.
PS: To find her Pinterest boards, just do a Google search for ["site:pinterest.com" + "your girlfriend's first & last name"]. Click through the first few results until you find your girlfriend's profile.
Step #2: Consider her personality
Goal: Determine the overall style of the ring
There's one incredibly important thing to remember as you search for a ring:
An engagement ring should be a reflection of the wearer herself.
So, what type of woman is your girlfriend?
If she's feminine and graceful, look for a ring that:
Is delicate and elegant
Has intricate details
If she's classic and vintage, look for a ring that:
Is actually from a different era
Has a nostalgic, vintage flair
If she's current and modern, look for a ring that is:
Nontraditional
Unique and contemporary
Now:
When considering your girlfriend's personality, you might find that she falls into more than one category. When choosing the overall style of the ring, focus on the things you love most about her to make your decision.
Step #3: Take inventory of her current jewelry
Goal: Determine the right band and overall ring boldness
Take a look at your girlfriend's jewelry. Notice the details. What type of pieces does she seem to have the most of?
...And as you analyze her jewelry, try to determine two main things:
1. The band she'll like
Does your girlfriend wear more silver or gold jewelry? A girl who wears more:
Silver will likely prefer a white gold or platinum band.
Gold will likely prefer a yellow or rose gold band.
2. How bold or simple she'd like her ring to be
Does she wear big pieces of jewelry that make a statement, or does she seem to choose items that are more subtle? A girl who consistently wears:
Minimalistic, simple jewelry will likely prefer a ring that has a more subtle, clean design.
Big, flashy jewelry will likely prefer a ring that's a bit larger or more unique (like a ring with a colored diamond).
What do I do if my girlfriend doesn't own much jewelry?
Take her into any clothing store (like Free People or Nordstrom) and pay attention to two things:
Which type of jewelry does she linger by the most?
Does she touch or pick up anything in particular?
Then:
Try to answer the same two questions from above, does she linger at, touch, or pick up jewelry that is:
Silver or gold?
Bold or simple?
Now keep in mind... this is just a workaround in case she doesn't have a lot jewelry. The items that she already owns will be a much better indicator of her actual tastes.
Step #4: Get Outside Opinions
Goal: Determine the stone shape and ring type
By following the three steps above, you've determined four important things:
Her overall style
The overall style of the ring
The best band for her
The boldness of the ring
The remaining details (shape of the stone and ring type) are nearly impossible to determine without directly asking your girlfriend.
But, you don't want to do that, so it's time to enlist some help from her best friends and family.
You can split the remaining two details between the two groups:
Friend = ring type
Family = shape of the stone
#1: Her friends
Choosing the ring type is difficult because there are quite a few distinct options:
Solitaire
Pavé
Half Pavé
Channel Set
Side-stone
Three-stone
Tension
Halo
Vintage
Etc.
...And to determine the best option, you're going to need inside help and a little trickery.
First, talk to the most discreet of your girlfriend's closest friends (the one that won't reveal that you're shopping for a ring). With her, come up with a creative way to find out details of what your girlfriend might want in a ring.
For example:
Gather pictures of the ring types you think your girlfriend will like
Discreetly send the pictures to her friend
Have that friend come up with a story she can use when showing them to your girlfriend: Something like, "My friend from college is about to propose and he wants my opinion on rings."
Finally, have her ask for your girlfriend's opinion on the rings (specifically, which she likes best and why)
Now, keep in mind:
We're simply trying to determine the ring type in this step, but the more detail that the friend can get, the better.
#2: Her family
All we have left to figure out is the shape of the stone. But, similar to the ring type, there are quite a few options:
Round
Princess
Emerald
Asscher
Oval
Radiant
Pear
Heart
Marquise
Cushion
Now, while deciding the shape of the stone is another difficult choice, we do still have an ace up our sleeve:
Your girlfriend's family!
Of the women in your girlfriend's family, pick the one she's closest to and schedule a meeting with her.
Step #1: Before you get together, choose the three shapes you think your girlfriend will like best. Rank these in order from what you think would be her most (#1) to least (#3) favorite.
Step #2: Meet with your girlfriend's family member, show her your research and tell them the decisions you've already made (band, ring style and boldness, ring type). Now... chances are, they'll give you their opinion. Take this into account, but take it with a grain of salt. Remember, you didn't make these decisions on a whim... you made them with careful research.
Step #3: Finally, ask her family member to rank the three choices in order from what she thinks would be your girlfriend's most (#1) to least (#3) favorite.
If both you and her family member chose the same stone shape as #1, you know you've made a great choice. If not, it might a good idea to ask another member of her family.
Step #5: Determine her ring size
Goal: Get the right ring size
While this one is tricky, it's important because you want to be able to slip the ring on her finger right when you propose.
There are a few easy ways to find what size ring your girlfriend wears (from most to least effective):
Most online ring retailers will mail you a free ring sizer kit to help you determine her ring size (here's a link to request one from James Allen).
If your girlfriend wears jewelry often, and wouldn't notice one of her rings missing for a short amount of time, take one of her ring finger rings to the jeweler for measurement.
Quickly take one of her ring finger rings and trace both the inside and outside of the ring on a sheet of paper. Take that paper to the jeweler and ask them to measure.
Choose a ring that your girlfriend wears on her ring finger and when she's not wearing it, slip it on your own ring finger. Take note of (or mark) where the ring falls on your finger. Next, go to a jeweler and have them measure the ring size of where her ring fell.
Any one of these tips can help you successfully find your girlfriend's ring size... just do your best to not to be too obvious and give away the surprise.
PS: When in doubt of the size, it's better if the ring is too big, because it can always be re-sized down.
In Conclusion:
Picking the right engagement ring for your girlfriend can feel intimidating, but it becomes hugely easier if you follow an actionable plan.
Use each of the 5 steps in that plan above... and I have no doubt you'll make a great choice for your special lady.
Sponsored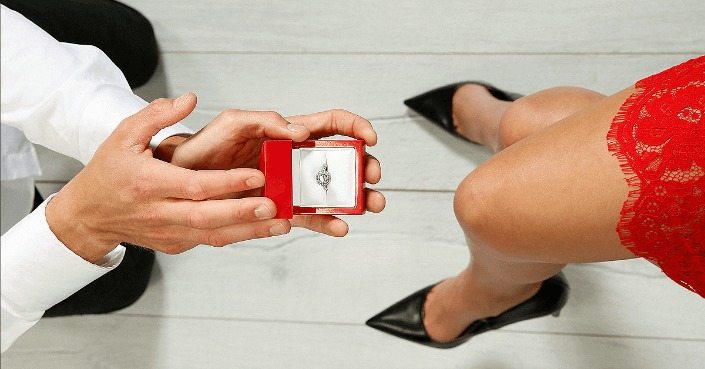 As the largest privately held online retailer of diamonds and engagement rings, the idea behind JamesAllen.com is simple: offer the world's most beautiful diamond engagement rings, coupled with the finest laboratory graded diamonds, all at an extraordinary value.
James Allen's Diamond Display Technology allows you to view their 60,000+ conflict-free diamonds and hundreds of settings in a magnified and 360° view. This allows you to see exactly what you are getting, all from the comfort of your home.