Camping is one of the best manly hobbies:
While camping, you're free to experience nature, connect with friends, and build a ton of survival skills.
in
But if you've planned a camping trip recently, I'm sure you know:
One of the least exciting (and frankly, overwhelming) parts of camping is packing for your trip.
You need to pack gear for cooking, sleeping, hiking, shelter, food storage, safety, survival, special gear for extreme weather, wilderness exploration, and/or just relaxing.
...And all that gear has to be considerably lightweight, environmentally responsible, and not easily damaged.
In other words:
You can't just toss a few items in a backpack, and expect to be well-prepared for all those aspects of camping. You need a thought-out plan (and detailed camping packing list).
...And if you're wondering what to take camping (and what are the essentials for your camping list) then this is a must-read post:
Below, I put together an all-inclusive, highly specific camping checklist that can help you plan, and be quickly prepared for your time in the wilderness.
The Essential Camping Checklists for Your Next Camping Trip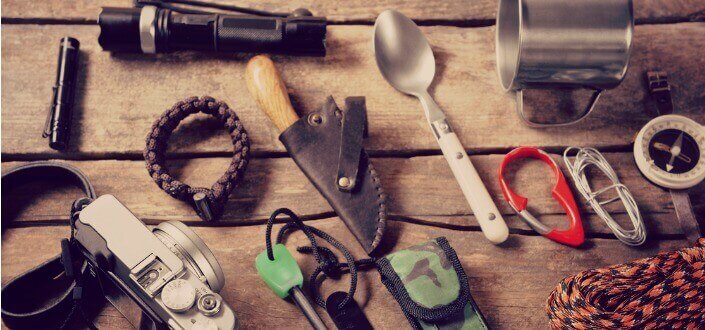 This guide's main camping checklist covers what each person (or couple) should pack for a weekend of backpack camping (these are the things needed for camping).
...And there are even 4 add-on lists to help you prepare for specific types of camping:
...and finally, a helpful guide to packing for other camping trips (longer trips, trips with kids, extreme weather trips, etc.).
Sound good? Then start packing.
Camping Checklist for a Weekend Backpack Camp (33 Camping Essentials)
1. Lightweight backpack
The first item you need is a lightweight, water-resistant backpack… because you of course have to store all the other items on this camping checklist somewhere, right?
Now:
Backpacks come in every size... so choose the right size for your trip (longer trips = bigger backpacks... but the backpack linked above should be perfect for weekend trips).
2. Small day bag for hikes
You can take a day bag hiking, after you've set up camp.
As far as size... it only needs to hold snacks, a water bottle, a map, and a first aid kit, so don't feel like you have to get a huge, pocketed bag.
3. Tent (or tarp, stakes, mallet)
This is one of the most obvious camping necessities... unless you plan to sleep under the stars (and I recommend you check the weather before doing that), you need a sturdy, well-made shelter.
Now... what type of tent do you need?
Well... it depends on your situation, but you can bring a multi-person tent, a single-person tent, or a tarp (and with a tarp you'll also need stakes, a mallet, and/or bungee cord to rig it off the ground).
4. Sleeping bag/pillow
You can get a rectangular sleeping bag, a warm mummy sleeping bag, or even a giant queen-size sleeping bag... and don't forget a comfortable, collapsible pillow (to prevent a stiff, sore neck).
...And research it before you buy, to make sure your sleeping bag is appropriate for the weather (not too stuffy, and not too thin).
5. Camera
One big reason men camp is to enjoy beautiful scenery, right?
…So you'll probably want a camera to capture that scenery for you.
When I camp, I love having a GoPro (they're light, small, and can clip onto your gear, hands-free), but you can also use your phone, or pack a traditional camera (the one linked is my personal camera, and I love the pictures it takes).
6. Portable charger
A portable phone charger is a necessity, especially if you're using your phone as a GPS/map.
Now:
If you aim to 'disconnect from the world' on this trip, I understand the temptation to leave your phone behind… but I don't recommend it.
Instead, bring your phone (and portable charger), put it in airplane mode so no calls bother you, and use it if there's an emergency.
7. Canteen
An insulated water canteen is incredibly valuable on a camping trip. The other option, a plastic bottle, does not keep your water cold... plus, most campsites prefer you bring in as little plastic trash as possible.
Get a durable metal canteen (like the Yeti, linked above) that keeps water cold and fresh, and keeps the campsite free of trash.
8. Weather-appropriate clothing
For your weekend trip, pack shirts, pants, outerwear and sleeping clothes that fit the weather... and remember to pack one extra set of clothes, just in case all yours get soaked, scorched, torn, etc.
See the add-on camping lists below for specific cold, hot, and wet-weather clothes to pack.
9. Socks and underwear
Pack socks that fit smoothly into your hiking boots (you really don't want overly thick socks that make your boots too tight), and extremely comfortable underwear… because one of the worst things on a long hike is itchy, sagging, tight or bunchy underwear/socks.
10. Boots/terrain shoes
If you're camping on level ground, and not walking far from the campsite, then tennis shoes are fine…
…but if you'll be hiking at all, especially on uneven terrain, invest in hiking boots or hiking shoes. They stay drier, are more durable, and have better traction and support than tennis shoes.
11. Hat
When you're camping, you can always use a hat... it can protect you from the sun, rain, or cold.
Bring a hat that best suits your needs (but for the basic weekend camping trip, a good baseball hat works just fine).
12. Sunglasses
Unless it's going to rain the entire time, you'll need sunglasses.
I always wear high-quality plastic sport sunglasses that are lightweight, won't get hot to touch, and won't break easily.
13. Fire starters
One of the best parts of camping is building, cooking on, and sitting around a fire, right? Bring an fire starter (instead of matches, which are less reliable).
Also find out if your campsite sells firewood, if you'll be able to chop kindling (if so, bring an axe), or if you need to bring your own firewood.
14. Roasting sticks/aluminum foil/pots/grate
I'll bet that no matter what happens on this trip, you're going to want to eat… so unless you want only dried food for the weekend, bring along a way to actually cook meals.
Roast hot dogs over the fire with roasting sticks
Pack aluminum foil with meat and vegetables and cook the packs directly in the fire (here are some great recipes for this kind of cooking)
Grill steaks, burgers, and vegetables over a grate
Boil meat, beans, potatoes, etc. in a pot over the fire
…And don't forget to bring Tupperware or re-sealable plastic bags to store leftovers.
15. Food
People stress out about what food to take camping more than any item on their camping checklist.
...And if you need some help with your camping food list, here's some ideas for what foods to pack:
Dried foods: granola, protein bars, bagels, jerky, trail mix, nuts, dried fruit
Meat: raw steaks, chicken breasts, burger patties, hot dogs
Vegetables: canned veggies, canned beans, raw veggies
Eat these foods dry, or use the cooking techniques above to make delicious campfire meals.
16. Plates
If you cook foil dinners, the foil you cook the food in becomes a plate… so all you'd need to pack is a fork…
…but if you're not eating foil dinners, pack some environmentally responsible, biodegradable paper plates.
17. Fork, spoon and knife
I recommend that each person on the trip pack an all-in-one set of utensils… because you have much less to keep up with that way!
18. Garbage bags
You definitely don't want to litter because you forgot garbage bags, so toss a roll in your backpack.
Bonus: if it rains, large garbage bags can be used for ponchos, or to rig extra shelters with duct tape in a pinch.
19. Knife/multi-tool
Any camping packing list would be sadly incomplete without a knife or multi-tool, right?
Make sure the knife is sharp, and make sure you pack it in your pocket, not at the bottom of your backpack… so it's ready immediately, if you need it.
20. Can opener
You'd be surprised how many people forget this camping essential! If you don't have a can opener on your multi-tool, pack a small can opener to open vegetable and bean cans.
21. Cooler
If you pack raw meat, and/or drinks you want to keep cold, you need a cooler.
The one linked is small and portable... but you can get a bigger one, if you won't need to carry it too far (big coolers get heavy, and are best for car camping).
22. Blankets to sit on
I can nearly promise, you won't regret carrying a multi-purpose, waterproof camping blanket in your backpack.
You can use it as a picnic blanket around the fire, an extra layer for warmth, a towel for swimming, or as extra tent protection against sudden rain.
23. First aid
This is extremely important… even if you're just camping overnight. In the outdoors, you never know what injuries will happen... and it's best to be prepared, rather than regretful that you didn't plan for an accident.
Pack a small first aid kit for close-to-civilization camping, and a heftier first aid kit for deep wilderness camping.
24. Emergency blanket
An emergency blanket (or thermal blanket) brings body temperature up from dangerously low levels, and prevents the body from going into shock. It's a necessary emergency item on a camping trip.
Some first aid kits contain emergency blankets, and some don't... so check yours before you leave, and buy an emergency blanket if you need one.
25. Rope
Pack a good amount of nylon rope… you never know when you'll need it to climb, rig a shelter, tie up a boat, etc.
26. Duct tape and tent repair kit
Duct tape is a must-have item on any camping checklist. With it, you can fix anything in your campsite that's ripped, broken, or leaky.
Now:
You should also pack a tent repair kit (especially for long-term camping), and use a duct tape to fix anything other than large tent damage.
27. Headlamp
I prefer powerful headlamps over lanterns or flashlights… they keep your hands completely free.
Get a high-quality one (like the one linked above), and make sure it has brand-new batteries in it before you go.
28. Sunscreen
This one should be obvious… you definitely don't want to deal with a painful, itchy sunburn while you live outdoors for the weekend, right?
If your skin is going to be in the sun, even if it's not that hot outside, pack and wear sunscreen.
29. Lip balm
Believe it or not, lip balm is just as important as sunscreen… chapped, dry lips can be incredibly painful.
Pack a small tube of lip balm in your day pack, and apply it a few times a day to prevent dry lips (also, drinking plenty of water helps). source
30. Glasses/contact lenses
If you wear any sort of corrective lenses, make sure you bring your backup pair, and any cleaning supplies you need for them.
31. Deodorant
This item may not be a 'camping necessity'… but your camp buddies will probably appreciate you wearing it (especially if you don't plan to shower).
Use this expert resource to pick the best deodorant for you.
32. Toothbrush/paste
Pack a small, space-saving sample toothpaste, and your toothbrush.
33. Toilet paper
Do I need to explain why this one is necessary?
Cool Add-on Items for Camping (8 Items)
Above is your basic camping checklist, with the essential items for traditional weekend camping… but if your group doesn't want to camp too ruggedly, you can add on any (or all) of these 'luxury' camping items.
Now:
For this type of camping, pack an upgraded tent, a comfy air mattress and/or cot, and these items:
1. Camping grill
A portable camping grill can make cooking easier, faster, and more delicious than cooking over a fire. The one linked, by Coleman, is lightweight (under 15 pounds) and is packed with features that make it perfect for camping.
2. Espresso machine
If you need coffee to function (like me), pack this espresso machine that's designed for outdoor use (it doesn't require any electricity).
The Nomad weighs 2 pounds and only requires coffee grounds, boiling water, and the power of your two hands to make delicious espresso (see this awesome video to understand how it works).
3. Folding chairs
These chairs are probably too bulky to carry long distances... but if you're not walking far to your campsite, a few folding chairs can make sitting around the fire much more comfortable.
4. Biodegradable soap
If you plan to wash dishes, bring along some biodegradable soap that will keep things clean, but that won't contain chemicals that harm the environment.
5. Kitchen supplies
The kitchen supplies you need depend on what you want to cook… and if you want more complicated (luxurious) meals than hot dogs/foil dinners, pack the pans, whisks, blender, cutting board, quick-dry towels, knives, etc. that you need.
6. Shower essentials
Some guys think the best part of camping is not having to shower… and some guys prefer to feel clean, even outdoors.
If that's you, pack shampoo, conditioner, razor, comb, etc.
7. Bicycles
Bikes are an awesome way to explore the outdoors!
If you're camping at a bike-friendly area, bring along mountain bikes and explore.
8. ENO
An Eagle's Nest Outfitters hammock isn't an essential… but it is a perfect way to relax:
It's a lightweight, polyester hammock that easily straps onto any tree with nylon straps. You can even wrap a top flap over you, and sleep in it like a cocoon.
Add-on Items for Cold-Weather Camping (4 Items)
There are different levels of cold-weather camping (mild to extreme), and the following 4 items are only appropriate for camping in chilly weather/light snow.
You'd need to research the recommended items for extremely cold temps.
Remember that in addition to the items below, you'll need a thicker, more insulated tent and sleeping bag.
1. Thermal blanket
Regular blankets won't keep you warm enough in cold weather, so bring a specially-designed thermal blanket in addition to your sleeping bag.
2. Foam pad
A foam pad under your sleeping bag does more than make the ground more comfortable… it actually insulates you from the frozen earth, trapping your heat, keeping you off the ground, and protecting you from any wet snow.
Get a dense, thick foam pad (like the one linked) and put your warm sleeping bag on top of it.
3. Gloves
Get winter camping gloves that are thick enough to keep you warm, but thin enough to allow free movement of your hands (to rig tents, start fires, etc.).
4. Thermal clothing
Your first layer of winter camping clothing should be moisture-wicking underwear (because by constantly wicking/drying your lowest layer, you are less likely to get hypothermia, from water trapped close to your skin).
Next, wear thermal shirts and pants designed to trap your heat close to your body.
On the outermost layer, wear insulated pants and jacket to keep out wind and water.
Finish with thick wool socks and winter boots.
Add-on Items for Hot-Weather Camping (4 Items)
Just like with cold weather camping, there are different levels of hot weather camping. The following 4 items are for a summer camping trip that's hot... but not extreme, dry heat (like a desert).
You should research what gear you need for that type of hot-weather camping.
Your essential items change for summer camping as well… you'll need a thinner sleeping bag, and lighter clothing.
1. Swim suit
There's no better way to reward yourself for camping and hiking in the heat than a swim in extremely refreshing, natural water… and for that, you'll need a quick-drying bathing suit.
2. Towels
Pack several super-absorbent microfiber towels to dry off both sweat and water from swimming (bonus: they pack very flat, and are extremely lightweight, making them a no-brainer addition to your pack).
3. Insect repellent
I can promise you… you'll immediately regret not packing insect repellent in the summer.
4. Quick-drying shorts
These quick-drying shorts are amazingly lightweight, and can dry outside in minutes: perfect for sweat and/or swimming.
Add-on Items for Wet-Weather Camping (6 Items)
You might boldly head out to a rainforest to camp, intentionally planning to get wet…
…or you might get rained on accidentally. But either way, it's best to check the weather, and plan for rain if it's a possibility. Start with these 6 items below that are perfectly suited to wet camping.
If you're sure it's going to rain, get a rainproof tent/rainfly and prepare to sleep off the ground (on an air mattress or cot).
1. Rainwear
Wear and pack rainwear (poncho, rain jacket, rain pants), and moisture-wicking clothing (to decrease the time water stays on your skin, which can cause hypothermia)
2. Rain cover
You'll need a rain cover for your backpack so all your items and food don't get wet (trust me, you'll be extremely disappointed if your dry clothes/food turn soggy in your uncovered backpack).
3. Water shoes
You should actually wear water shoes while you set up camp (freely allowing water in, instead of trapping it in your socks and shoes. There's almost nothing more annoying than wearing wet socks… and it can cause hypothermia.)
4. A gas stove
You'll need a way to cook your food if it's too wet for a fire, so pack a gas stove that only requires a match to be lit for a moment.
5. Microfiber towel
Get a pack of microfiber towels to dry off your gear and your body when you get to the campsite.
6. Newspaper
Since all the kindling will probably be wet, bring some newspaper for kindling (keep it dry in transport, and only try to start a fire if it's lightly raining).
A Quick Guide to Packing for Other Camping Trips
As you now know, each camping trip calls for unique gear… but there are other factors besides luxury and weather that affect what you need to pack.
Include any items that these types of trips call for:
The type of camping
RV camping means you can take a ton of items, since you're essentially in a rolling house… car camping means you can store some items in the car, since you drive close to the campsite… and backpack camping means you should pack the lightest, since there's a longer hike between your starting point and the campsite.
The weather
Obviously, different weather calls for different gear. We included 3 lists of weather-specific gear above, but if you're camping in extreme weather, research to find what survival gear you need.
The duration of the trip
Long-term camping (over 1 week) requires more food/food storage, as well as more emergency supplies.
The distance your camp will be from civilization
No matter what, you should know where the nearest help center/ranger station/hospital is… and if you're staying far from civilization, you need to add more survival/tactical tools to your camping gear list (like signaling items, field medical kit, etc.)
The number of campers
Larger groups, in general, call for more preparation. You'll need more food, first aid, and survival supplies. You may even want to divide up the packing list, and have one person bring food, another bring survival gear, another bring shelter, etc.
The presence of kids
Kids require more careful preparation than adults, since they can't take care of themselves. This list doesn't cover everything to bring for kids… so if you are planning to bring children, heavily research what items you should bring for them.
Any activities that need gear
If you plan on fishing, canoeing, snowboarding, spelunking, or any other outdoor activity, you'll obviously need to bring the gear for those activities as well.
In Conclusion
Packing for your camping trip doesn't have to be such a headache... if you've prepared in the best possible way.
With this essential, all-inclusive camping checklist (and 4 add-on camping lists) you'll be well prepared for almost any camping adventure.