Want to become a smarter person with these clever riddles?
Smart people love tricky riddles because they improve their critical thinking skills. As the resident trivia master, I know how to strengthen the mind through riddles and trivia. Look at these posts, that have garnered over a million views, about easy riddles with answers, general trivia questions, and unique trivia questions if you don't believe me!
Excited? Let's get started!
Contents
The Ultimate List of Clever Riddles to Put Your Intelligence to the Test
This is the ultimate list of clever riddles that will test your intelligence. Need a good riddle to tickle your brain? We've got them here. These short riddles will not only make you sound smarter but make you be smarter.
Riddle Categories
6 Best Smart Riddles To Test Your Logic
These are the best riddles for everyone - not just smart people, to enjoy. These short riddles will test your logic and reasoning ability and your ability to puzzle out the answer. So, if you want a challenge, try some of these great riddles!
1. It's always in front of you but cannot be seen. What is it?
View Answer
Answer
The future
More Information
People can try to predict the future, but no one can ever see it. Even then, the future isn't just one event; it's a complex arrangement of possibilities. You can't ever evade it, and it always happens. So, there's no more fitting answer to this riddle.
2. You can break it without even touching it. What is it?
View Answer
Answer
A promise
More Information
If you think literally, you'll never get the answer to the riddle. You'll have to try to think in idioms and figures of speech to arrive at the correct answer. So, did you get it right?
3. What is something that belongs to you, but other people use it more than you?
View Answer
Answer
Your Name
More Information
Unless you're someone who refers to themself in the third person, it's highly unlikely you'll ever use your name more than other people will.
4. You give it to someone but can still keep it simultaneously. What is it?
View Answer
Answer
Your word
More Information
You can give your word to others, and you can also keep your word! It better be a good word, or you'll lose their trust. Why do they make word singular in this situation? It's hard to promise someone if you say just one word.
5. It is always arriving but never really comes. What is it?
View Answer
Answer
Tomorrow
More Information
When you think about it, tomorrow never really comes. Tomorrow becomes today when it arrives, and the next day becomes tomorrow. So does tomorrow ever get past arriving?
6. Which month has 28 days in it?
View Answer
Answer
All of them
More Information
You might think, "February on a leap year has 28 days!" The riddle isn't asking for which month has exactly 28 days in it, though. Since every month has 28 days, they all count.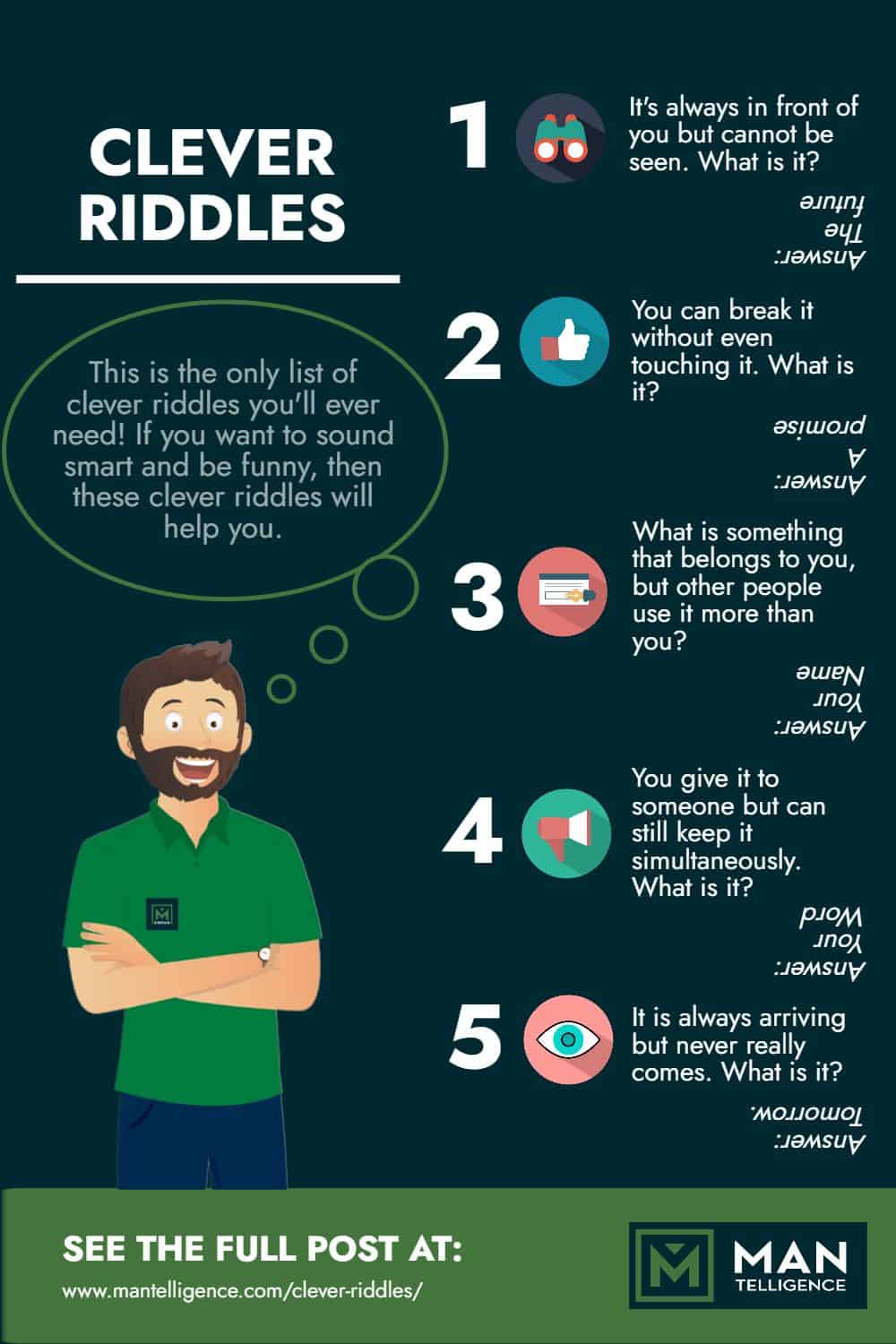 Share This Image On Your Site
6 Clever Yet Hilarious Puzzles For Adults
These are the funniest riddles with just a dash of cleverness. They're also adult riddles guaranteed to help you laugh and have a blast solving. So, if you want a good laugh, enjoy these fun riddles!
7. What building has the most stories?
View Answer
Answer
A library
More Information
I love a good pun, and funny riddles use plenty of puns. The best riddles, in my opinion, are the punny but clever ones. So, did you get this one? How about a bonus - how many floors does a building have?
8. What has a bottom at the top?
View Answer
Answer
Your legs
More Information
No, it isn't just you who thought something dirty when you read the riddle aloud. Don't worry, though; it's just talking about anatomy. Don't think too hard about what has a top at the bottom.
9. What goes all around the world but stays in a corner?
View Answer
Answer
A stamp
More Information
Letters are probably better world travelers than people. Think about it: they can cross the globe to reach their destination. Think they get frequent flyer miles?
10. What has one eye but can't see?
View Answer
Answer
A needle
More Information
Drop your ideas about blind cyclopes now: the answer is a needle. A needle has a hole where the thread passes through - this hole is called an eye. And last I checked, a needle couldn't see anything through it.
11. What has a head and a tail but no body?
View Answer
Answer
A coin
More Information
You probably already guessed it was a coin because of the words "head" and "tail." Riddles about coins can be so predictable like that. Maybe you should say top or bottom instead?
12. What has many teeth but cannot bite?
View Answer
Answer
A comb
More Information
The entire purpose of teeth is to be used in biting something, so this riddle might confuse your friends when you ask it at first. Be glad a comb doesn't actually bite you!
6 Difficult But Clever Riddles to Exercise Your Brain
Clever riddles can sometimes be difficult to answer. Hard riddles may take a while to solve, but they're great for exercising your brain. So, train your brain with some of these hard riddles! Try solving them without reading the answers: if you can manage that, you're truly smart.
13. What can fill up a room but take up no space?
View Answer
Answer
Light
More Information
Other possible answers are air or nothing. Still, if we're talking in scientific terms, light has no mass; therefore, it doesn't take up space. You can learn so much from riddles!
14. What is so fragile that saying its name instantly breaks it?
View Answer
Answer
Silence
More Information
When you think about it, silence is something of an oxymoron. You can't say it and mean it, and whenever you talk about it, you're actually talking about its opposite. It's quite a fragile word.
15. What five-letter word has one left when two letters are removed?
View Answer
Answer
Stone
More Information
Other words can qualify, but if the riddle talks about the "first" two letters instead, it's most likely the word "stone." I, for one, believe "scone" is a better answer - there's always one left whenever I talk about them.
16. What has branches, but no fruit, trunk, or leaves?
View Answer
Answer
A bank
More Information
Stores can also qualify, but we tend to talk about banks when talking about businesses with branches. They don't have fruit or flowers or a trunk, and the only leaves they have are leaves of paper money. Does that mean banks are money bushes rather than money trees?
17. This has a neck but does not have a head. What is it?
View Answer
Answer
A shirt
More Information
No, headless people don't count. Shirts, especially T-shirts, have necks but don't have heads. The head belongs to the person wearing the shirt, not the shirt itself.
18. They come out at night without any invitation, but they mysteriously disappear during the day. What are they?
View Answer
Answer
Stars
More Information
The moon can sometimes appear in the daytime, but stars never show up during the day. So, stars are like thieves in the night - they vanish when the day comes.
6 Easy Mystery Puzzles For Adults That They Might Find Challenging
Even the easy riddles can be challenging because of their simplicity. When you know you're trying to solve a clever riddle, you might try to think of the most difficult answer to find - but sometimes these clever riddles are actually quite easy, so you gloss over the real answer. So, try asking some of your friends these easy riddles - see if they make that mistake.
19. Which vegetable is the king of rock and roll?
View Answer
Answer
Elvis Parsley
More Information
Gosh, I love a good pun. I Can't Help Falling In Love with puns. Are You Lonesome Tonight? If I Can Dream, we can make puns all night long.
20. What did Roger Rabbit give to Jessica Rabbit when they were married?
View Answer
Answer
An eighteen carrot ring
More Information
More puns! More. Eighteen carrots may seem like a letdown, but we're talking about rabbits here - they probably think carrots are worth more than diamonds. And hey, eighteen carrots is a lot for one rabbit!
21. What did the doctor prescribe to the sick lemon?
View Answer
Answer
Lemon-aid
More Information
One last pun for this section, I promise. Lemons need some first lemon-aid. Give an injured lemon a squeeze to apply pressure to any wounds.
22. I have no legs. I will never walk but always run. What am I?
View Answer
Answer
A river
More Information
Have you ever seen a river that walks? Even the smallest, slowest rivers still run. They never stop running, so rivers must be quite athletic.
23. I don't have a life, but I can die. What am I?
View Answer
Answer
A battery
More Information
Most electronics can also be a fitting answer to this riddle. I, for one, have a phone that dies constantly. What devices of yours tend to die when you least want them?
24. I have rivers but have no water. I have dense forests but no trees and animals. And, I have cities, but no people live in those cities. What am I?
View Answer
Answer
A map
More Information
You might also say a "globe," but a globe is just a three-dimensional map. You might also think to say "atlas," but it's just a collection of maps. Either way, maps are quite lonely despite having all these things.
6 Tricky Yet Clever "What Am I" Riddles
"What am I?" riddles are quite tricky. They ask you to figure out what they're describing using only the smallest hints. But because of that, they can also be clever and tell you the answer in the most obtuse way. So, it's a test whether you paid close attention to the hints provided. Don't worry if you can't answer these riddles - we already answered them for you.
25. I touch you from your head to your toe. The more I touch, the smaller I grow. What am I?
View Answer
Answer
A bar of soap
More Information
Even liquid soap technically can work, as it disappears the more you rub it over you - but a bar of soap is the most fitting answer to this riddle. Don't miss a spot!
26. I can fly but have no wings. I can cry, but I have no eyes. Wherever I go, darkness follows me. What am I?
View Answer
Answer
Clouds
More Information
Clouds don't ever smile; they always cry and create big shadows. They're quite depressing if you think about it. Maybe that's why people start feeling melancholy on cloudy days.
27. The more of these you take, the more of them you leave behind. What am I?
View Answer
Answer
Footsteps
More Information
The more footsteps you take, the more footprints you leave behind. You can also make a case for fingerprints, but you don't "take" fingerprints. Fingersteps?
28. I can wave my hands at you, but can never wave goodbye. You are always cool with me, even more so when I am high! What am I?
View Answer
Answer
An electric fan
More Information
This one's a pretty difficult riddle to answer if you think about it conventionally. The second sentence, however, gives plenty away - you just have to think outside the box to get the answer.
29. If you have me, you want to tell people about me. If you share me, you don't have me. What am I?
View Answer
Answer
Secret
More Information
A secret no longer becomes a secret if it's shared. And there's hardly a person on earth who doesn't want to share at least one secret with someone they're close to. Does the secret then stop being yours when you share it?
30. People make me, save me, change me, raise me. What am I
View Answer
Answer
Money
More Information
This one's an easy enough answer if you pay close attention to the words! But the tricky part of this riddle is that the words can also apply to babies. So, did you get it right?
Downloadable and Printable List of Clever Riddles
Here is a downloadable and printable jpg/pdf list of clever riddles (right-clicked the image and select Save Image As...):
7 Amazing Benefits Of Puzzles For Adults
Riddles offer plenty of benefits, especially when people try to solve them. Adults tend to benefit more than kids from riddles, having greater brainpower, creativity, and the ability to reason.
Here, I will list some of the amazing benefits riddles confer to adults - see if you managed to come across these benefits yourself after reading this article!
#1: Improved memory.
Once you've heard the answer to a riddle, it's hard to forget that answer. Riddles are incredibly memorable, so when you're asked the same riddle a second time, it becomes easy to answer because you've already heard it before. Even if you aren't asked the same riddle for a long time, it becomes easy to remember again.
So, riddles tend to have a lasting impact on your memorization skills.
#2: Better Problem-Solving skills.
Naturally, the point of a riddle is to solve it. Riddles tend to make themselves more difficult through wordplay, making it harder to arrive at the correct answer. Because of that, they tend to train the problem-solving skills of the person trying to solve them.
After solving a riddle, doesn't it become easier to solve a second one? That's your proof.
#3: Improved Visual-Spatial reasoning.
If nothing else, riddles are imaginative. So, they also help you to imagine the situation better. Though riddles are primarily word-based, they also help people with visual learning styles imagine the riddle three-dimensionally and apply the words of the riddle to those mental images.
#4: Drastically slow the effects and reduce the risk of dementia.
Riddles are fanciful but never illogical. Reaching a riddle's answer can be done through thinking and associating clearly. Since you have to think clearly and pay close attention to the riddle, you can reduce the effects of dementia.
As riddles contain sound, if clever logic, one can train their cognitive functions and make it harder to lose them to dementia.
#5: Provide a source of entertainment and a sense of accomplishment.
Riddles are fun and challenging to solve. Don't you feel great accomplishment when you successfully solve a fun riddle? Riddles provide entertainment and challenge, making them incredibly rewarding to tackle.
#6: Improved mood.
Because of their entertainment value and the sense of accomplishment they give, people are often much happier after solving a riddle. If the riddle is posed as a game, they become even more effective at improving your mood.
#7: Lower stress levels.
Naturally, with an improved mood comes lower stress levels. While some riddles can be stressful trying to solve, especially if there are stakes, people often feel much more relaxed and happy after managing to solve one. So, one can lose stress by trying out riddles they consider fun and challenging.
Frequently Asked Questions
If this list of clever riddles has successfully made you feel smarter, then it's wonderfully accomplished its purpose. However, is there anything else you need to ask about? If there is, the answers to these frequently asked questions may help.
What is the purpose of a riddle?
A riddle is an intellectual challenge. They're asked so that they can test the answerer's reasoning and problem-solving skills in a fun and entertaining way. Because the fun factor is directly a result of the level of challenge, riddles tend to use clever wordplay to mislead the answerer.
Do solving riddles make you smarter?
Of course, they do! Like the section above, riddles have many benefits - and being smarter is just one of those benefits. You'll know much more through solving a riddle than without, making you smarter.
Why are riddles good for the brain?
They're difficult and misleading, but they also have a clear way to reach the answer. Finding the right thought process despite the odds is like food for the brain - it nourishes it and helps it grow. Riddles are good for the brain because they're challenging.
Do riddles help us grow mentally and intellectually?
The section above should tell you plenty about the good they do for our brains. Riddles are mental and intellectual challenges - and by stimulating us by making us think harder, they help our brains grow.
More Awesome Articles To Explore
We hope you enjoyed some of the best riddles we could come up with. Witty riddles are great for making puzzle games to play with friends. Want to find more games you can enjoy with others? Here are some related articles that can help.
When the kids are away, it's time for the adults to play. Here are some fun adult games for when the kids are out!
Want to break the ice? Need some funny jokes? Try these fun icebreaker games!
You don't need to be close to anyone to play a good game! Have a good laugh and joke with some games to play over text. These are great to play with if you've even just a single person to text.
In Conclusion
Clever riddles are a great way to improve your critical thinking skills. There are so many kinds of riddles out there - and so many ways to have fun solving them and sharing them with others. We hope you enjoy using these fun, clever riddles on your friends!