Great news, guys… we have compiled a list of adventurous things to do.
Admit it.
You hate, no loathe, your monotonous, everyday routine. Each dull day merges into the next, each equally forgettable. Days turn into weeks, and weeks into months. One day you look up from your desk and suddenly another birthday is here.
So you constantly internet stalk the bold and fearless. Those who've risked it all to pursue their dreams. But you can't be those guys. Your job won't understand that you never show up because you're too busy living life to the fullest.
But here's the thing… you don't have to give up your life to pursue adventure. Our list of things to do will reignite the unquenchable fire of adventure in your heart.
Contents
20 Best Adventurous Things To Do
Warning: Not for the faint of heart!
Are you an adrenaline junkie? Do you consider yourself fearlessly adventurous? We've compiled a list of some truly dope activities that will get your juices flowing. They're as adventurous and they are rewarding.
1. Shark diving
Wanna see sharks go snap, snap?
2. Cave diving
Brace yourself for an exhilarating time.
3. Kayaking with whales
Nothing beats the sheer thrill of paddling with whales.
4. Bungee jumping
This is one of the most high adrenaline adventures you can take.
5. Portaledging
how about spending a night cliff camping on a portaledge.
6. Hike The Inca Trail to Machu Picchu
Hike Peru's classic Inca trail to Machu Picchu. You'll love the breathtaking views.
7. Take a hot air balloon
Fly in a hot air balloon for a truly unforgettable experience.
8. Scuba dive along the Great Barrier Reef
Adrenaline junkies will love taking a plunge into the deep sea.
9. Walk along the Great Wall of China
This is one to add to your bucket list.
10. Visits the Pyramids in Cairo
You definitely want to visit the only wonder of the ancient world left standing.
11. Drink champagne in the Empire State building
The epic views from the 102nd Floor Observatory Venture are definitely worth popping a bottle of champagne.
12. Run across the Bolivian salt flats
The Bolivian salt flats are one of the most extreme and remarkable vistas in all of South America.
13. Get drenched in tomatoes at La Tomatina
You need to experience the La Tomatina at least once in your lifetime.
14. Have dinner up the Eiffel Tower
This is perfect for a honeymoon.
15. See penguins in Antarctica
You have to meet the penguins of Antarctica.
16. Bridge climbing
Bridge climbing is an adventure for all ages and seasons.
17. Exotic car driving and racing
You don't get to do this every day.
18. Rappelling
Brace yourself for a bumpy ride.
19. Extreme biking
How about some biking with a twist?
20. Sky swinging
The sky swinging drop will give you a high like no other.
20 Adventurous Things To Do When Bored
20 adventurous things to do when bored
Life happens. And it's easy to feel, well… a little restless – even bored. Are you bored witless and feel it's time to take a break? Fancy some adventure? We've assembled a list of tried and true things to do when bored. Check them out!
21. Go geocaching
Treasure hunting has never been this dope.
22. Visit county fairs
There's no funfair without fun.
23. Go fly a kite.
You can be a kid again.
24. Take a hike.
There's simply no better way to experience the great outdoors.
25. Learn how to swim.
Once you're done, you'll be taking to water like a duck.
26. Explore your local library.
There are hidden gems in every library. Find them!
27. Walk on hot coals
Not everyone's cup of tea, but it's definitely worth a shot.
28. Get a Tattoo
Everyone seems to be getting one...
29. Go on a Police Ride along
Get in the thick of the action. Find out what it's really like being a cop.
30. Hold a monkey
Holding and playing with monkeys can be so much fun.
31. Swim in the ocean
Swimming in the ocean is the perfect addition to your itinerary.
32. Climb to the top of a tree
Find your inner child and do the things you think you can no longer do.
33. Try a food you've never tried before.
You can never go wrong with food.
34. Adopt a pet
The new member of the family will keep you busy for a while.
35. Write a love letter to someone you love
Remember how it used to be before Tinder?
36. Watch the Sunset
Nothing beats watching the sunset with a loved one.
37. Go to the Museum
The museum is a treasure trove of things waiting to be discovered.
38. Pretend You're a Tourist
Playing pretend can be fun.
39. Go to the Farmers Market
Buying some fresh farm produce at the farmer's market can be both relaxing and enjoyable.
40. Invite Your Neighbors Over
Nothing beats good company when you're bored.
20 Adventurous Things To Do With Friends
It's easy to feel like every day is Groundhog Day.
You get out of the office, and there's nothing to do but the same ole same ole. Bellying up to the bar for the umpteenth time, going to the mall to spend money you don't even have… and the list goes on.
It doesn't have to be this way. There are a ton of things to do with friends that will inject some adventure into your lives and make some great memories. Life is short, live it up!
41. Volunteer together
Not only is it fulfilling, it can also be an opportunity to hang out.
42. play baseball at the local park
Baseball is tons of fun.
43. Go dumpster diving.
You never know what you might find.
44. Go camping
A night out in the wild can help take your thoughts off your crazy schedule.
45. Find a swimming hole
Nothing beats friends converged around a body of water.
46. Have a bonfire
Bonfire and stories... yummy.
47. Laser Tag
Target practice with friends in a fun and safe environment.
48. Participate in a Color Run
Can you run? How about getting doused from head to toe in colored powder?
49. Escape the room
A little fun and games with friends can do wonders.
50. Learn parkour
This is for you if you're fit and edgy. You'll need nerves of steel.
51. Join a ghost tour
Exploring the haunted side of your city must be on your bucket list.
52. Crash a wedding
If not now, when? Have fun.
53. Do a PUB Crawl
A pub crawl in a new city can be tons of fun.
54. Go streaking.
LOL...
55. Pull an elaborate prank
You can have a good laugh with this one.
56. Go to a fraternity party
What happens at the frat party stays at the frat party.
57. Take a roundabout road trip
This one always works for everyone.
58. outdoor group fitness class
If your friends are the outdoorsy type, then this is an obvious choice.
59. classy backyard BBQ
Make sure to grab some wine...
60. Batting cage
Now's a good time to practice your batting.
20 Adventurous Things To Do On A Sunday
It's Sunday and you're feel little dull…
Netflix? Nope. A round of Candy Crush, perhaps? Bleh. You're tired of doing the same old stuff. Sucks, right? Well, Sundays don't have to be spent in bed. Kick up the fun with this amazing list of adventurous things to do on a Sunday. You can thank us later.
61. Learn how to change your car's oil.
Here's an opportunity to learn something new.
62. write out your will.
We all know how this movie ends. We all die. Might as well prepare.
63. Visit a free zoo
Nope. Zoo's aren't just for kids anymore.
64. Go to a film festival
Love movies? Here's an adventure that will tickle your fancy.
65. Do a neighborhood cleanup.
What better way to spend your Sunday that making your neighborhood look good.
66. Karaoke Bar
Sing your lungs out...
67. Join the film critics
Everyone has an opinion. Share yours.
68. Attend a dance class
Dancing is both relaxing and helps burn calories. Win-win.
69. Have a drink with glass.
Sometimes that's all it takes to brighten your day.
70. Go book hunting
Love reading? Then this will go right into your list of favorite things to do on a Sunday.
71. Night Bike
It's just different.
72. Do a Vineyard Tour
This is a great way to spend quality time with your significant other.
73. Play a sport
Amen!
74. Attend an Art Gallery Opening
If you love art, then this is a no-brainer.
75. Make a Backyard Bonfire
Just don't burn down your house.
76. Be a Designated Driver
You might as well do something worthwhile for your buddies.
77. Watch a Play at the Local Theater
Plays are still dope...
78. Get a massage
Is there a better way to relax?
79. Stargaze on a Rooftop
You'll want to do this again and again.
80. Visit your hometown
A trip down memory lane is always a good idea.
10 Adventurous Things To Do At Home
Going out can be expensive. The drinks, food, gas, and other items can eat into a significant amount of your week's budget. You don't have to give in to boredom when an empty wallet forces you into a self-imposed house arrest. You can still have quite a bit of fun indoors. The indoors will never be the same again.
81. Make a how-to video for YouTube.
This should go on everyone's to do list.
82. Seduce your partner.
Bring the spark back into your life.
83. Rearrange the furniture in a room
This will take a while and it can be fun too. Call in a friend to help.
84. Boys night in
A night with the guys over a few beers will do.
85. Have a date with your pet
It's date night.
86. Throw a clothes, food or entertainment swap
You'll need to get your friends involved.
87. Experiment in the kitchen.
Time to try out that recipe you've been putting off.
88. Take on a home improvement project.
Pick up one of those project you never come round to doing.
89. Do all the embarrassing things you like to do when no one is around.
You must have a long list of these.
90. register for a free online class
It's amazing just what you can learn online in your free time.
How To Pick The Best Adventurous Things To Do
So many adventures and yet so little time…
How do you go about picking the perfect adventurous thing to do? Choosing an adventure is never easy. But we have some timely tips to help you go about making a decision.
1. Settle on a Budget
How much can you set aside for the adventure? Have a figure in mind to help you narrow down your options. Once you have a list of the activities that fall within your budget, you can now pick one or more. There are plenty of adventures you can enjoy even on a tight budget.
2. Consider Your Interests
Pick adventures that fall within your interests. You don't want to go on a rock-climbing adventure if you fear heights. You'll not have much fun. Pick adventures that get you excited. If you're going with someone else, make sure to consider their interests too.
3. Research New Adventures
You don't want to keep going on the same adventures every time. Take time to check out new adventures online and in print publications. You may find new experiences that pique your interest. You can also ask family and friends for recommendations if you're short on ideas.
4. Consider the Season
Some activities are more suited for certain seasons. For example, an outdoors activity during winter will expose you to the biting cold. If this is not your thing, you might want to go with an indoor activity or postpone the adventure.
5. Reviews
If you're looking to try out a new activity, make sure to check out the reviews. They'll help you determine whether it's worth your while.
Downloadable and Printable List of Adventurous Things To Do
Here is a downloadable and printable list of adventurous things to do (right click the image and select Save Image As..):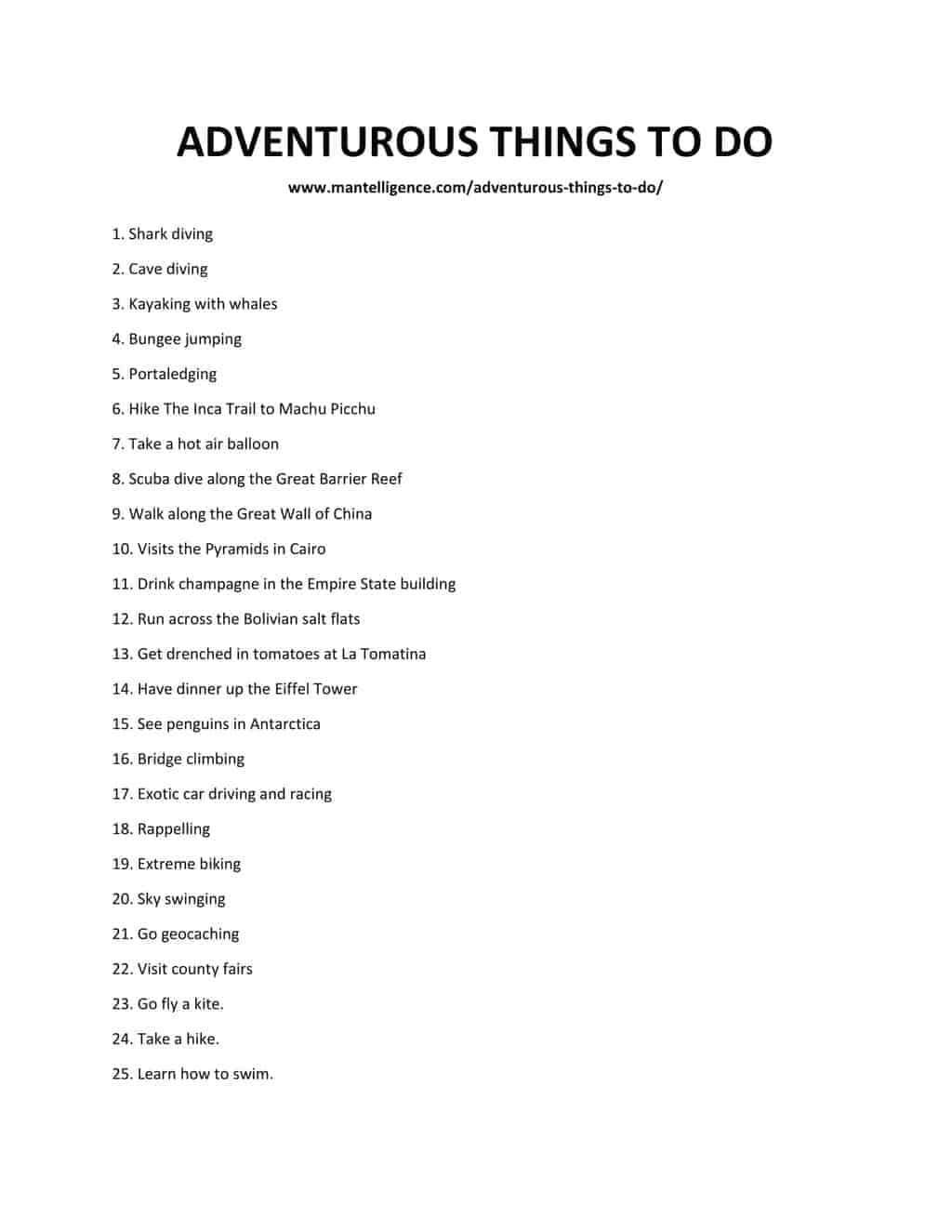 More Fun Ways To Spend Your Time
Still haven't found something that tickles your fancy? Or are you just looking for something to do with your significant other? We have tons more fun activities you can indulge in.
You and your boo can jazz things up a bit with these amazing date ideas.
Running out of ideas for a fun-filled date? We have some unique date ideas that will keep your relationship fresh and interesting.
Looking for hobbies for men to keep you occupied? Check out our collection of hobbies that you can share with the boys.
In Conclusion
Whether it's your first time or you're a seasoned pro, the thrill of an adventure is irresistible. This list of adventurous things to do will be your go to source of unbridled fun for the foreseeable future.