Looking for things to do when bored at home?
There's only so many times you can snort a line of coffee before it gets old… LOL. In a world awash with entertainment options, it's hard to imagine how someone can get bored. But here's the thing… meh" can easily creep up on you when you're bumming around the house. Even your go-to activities can suddenly turn stale.
You know what they say, "All work and no play makes Jack a dull boy." Today we've compiled a list of fun things to do to kill boredom at home. They're so good, you'll start feeling excited about life again.
Contents
20 Best Things To Do When Bored At Home
Ah, you finally have some time off work. The sweet smell of freedom…
You can finally do the things you've always wanted to do. But there's a problem. Half those things seem to have faded into oblivion. And you're not even excited by the half that you remember. Now you have all the time in the world and nothing to do with it.
Don't laze around mindlessly scrolling through your phone. There are tons of things to do. Take your pick from our list.
1. Start your own garden.
Gardening can be a great way to pass time and learn.
2. Take a bubble bath.
You never get the time to do this, do you? Now's the perfect time.
3. Watch a marathon of your favorite movie
You can never go wrong with a movie.
4. Start journaling
Keeping a journal is a great way to track your progress and plan your future.
5. Do sit-ups.
Why not use your free time to get fit?
6. Change up your décor scheme.
A change is always good...
7. Throw a small party
Invite your favorite people to hang out.
8. Call your Best Friend
Haven't had a chance to catch up with your best friend? Now's the time.
9. Watch funny YouTube videos
How about something to tickle your funny bone.
10. Shop online
Online shopping can be therapeutic.
11. Create a vision board
The first step towards achieving your goals is visualizing them.
12. adult coloring books
You can be a child again with a coloring book for adults.
13. Edit old photos
This is your chance to use modern software to enhance your old photos.
14. Do a puzzle
Puzzles are a great way to keep your mid occupied when you're bored.
15. Refresh your middle and high school knowledge.
Take a trip back into time. As you still as whip-smart as you were?
16. Backup your laptop
Admit it. You know you should have done this by now. Do it while you're home today!
17. Get an in-home massage
If you have a bit of money and don't feel like going out, get the massage to come to you.
18. Plant a tree in the backyard and give it a name
That tree will outlast you, no matter how many more days you have in that home.
19. Make a bird feeder
Make it today, get the bird seed tomorrow, and you'll have some lovely companions to share the next day with.
20. Daydream
You used to spend days doing it as a kid. Why not start doing it again now?
15 Fun Things To Do With Friends When Bored At Home
Guys… there's no better cure for boredom than hanging out with your buddies. Not only is it mad fun, it also gives you an opportunity to bond and catch up. But doing the same ol' things when you hang out at home can get boring. We have a list of fun things to do with friends that will blow your mind. Have fun like there's no tomorrow.
21. Costume Party
This should be fun...
22. Host a Cooking Show
Lights, camera, action!
23. Charades
Bring the drama, acting, and guessing home.
24. Poker Night
Everyone loves poker.
25. Murder Mystery
A great game to play no matter the size of the party.
26. host a dinner party
It's time to flex your culinary skills.
27. Play Board Games with Friends
Play chess, scrabble, monopoly, uno, backgammon, and any other game you can think of.
28. Unwind over some drinks
When all else fails...
29. Play Never Have I Ever
If you're going to drink, you might as well throw in a fun game.
30. Gallon Milk Challenge
Can you drink a gallon of milk in an hour? You're about to find out.
31. Throw a B.Y.O.E. Party
You don't have to break the bank to have fun.
32. Have a campfire in your backyard
Who said you have to leave home to camp?
33. Play "Minute to win it"
An easy game that's bound to get everyone roaring with laughter.
34. Skype & FaceTime your friends
There's nothing better than spending an afternoon catching up with those far away.
35. Host a beer tasting
Have everyone bring a six-pack they've never tried and seen which you all agree is the best.
15 Things To Do On A Sunday When Bored At Home
We'll be the first to admit - it's kinda hectic making grand plans for Sunday. After all, you need to prepare for work the next day. We get it… you have a long week ahead, there's a report, a dozen meetings… yadda yadda yadda. Zip it! Forget about tomorrow. You need to make the most out of today. Close out the weekend in style with our collection of best things to do on a Sunday. You won't regret it, for the most part. Wink!
36. Send your long-distance friends surprise postcards.
Remember the last time you sent a post card? Your friends will love it.
37. See how long you can last in P90X
Put your trainers on and get to work.
38. Clean the house
Cleaning the house can actually be fun.
39. Watch something educational
Learning something new is always a great way to pass time.
40. Learn a new skill
You could learn how to play the piano, perhaps?
41. Take a nap
You need some rest to deal with the week ahead.
42. Pick a TV show to binge
A rerun of Friends, anyone?
43. Reconnect with an old acquaintance
Time to catch up and get up to speed with people with whom you've lost touch.
44. Meet your neighbors.
It's amazing how much joy meeting your neighbors can bring.
45. Clear out your media collection
You're bound to find some gems.
46. Make a '101 Goals in 1,001 Days' list – then start on some of them.
Thinking about your future can bring some excitement back into your life.
47. Do a household maintenance walk-through.
There's always something that needs fixing.
48. Start a blog
The world is your oyster...
49. Meditation
Meditation is powerful, It can help you stay healthier and enjoy life more.
50. Learn a language
It's never too late to learn a new language.
15 Things To Do Online When Bored At Home
Life is hectic. You rarely find a single moment of downtime. When such a moment comes along, it's easy to feel, well… a little restless, even bored. You see… if you're not in the mood to sit home and luxuriate in doing nothing, then it can feel like cabin fever. We have a collection of things to do online when bored. Grab your favorite device and a hot cup of coffee, and let's get right into it.
51. Listen to Podcasts
There's a podcast for every topic imaginable. Wanna bet?
52. Read Online comics
Your favorite comic titles are now available online.
53. Start a Blog
Share your life with the world.
54. Create Funny Mixes
You can have a laugh with this one.
55. Make some sick beats at Patatap
Let your hidden talent shine through.
56. Learn any course online.
You can take an online course to help with your career.
57. Learn how to make new stuff at videojug.
There's always room to learn something new.
58. Play Online Games
You have plenty to choose from.
59. Learn how to code.
Yes, you can learn how to code at any age.
60. Watch online documentaries
It's amazing the things you can discover while seated at home.
61. read e-books
Fire up your Kindle and pick up where you left off.
62. Take an IQ test
You'll kill quite a bit of time with this one.
63. Chat with someone, and meet new friends.
Meeting new people is always an exciting experience.
64. Download free versions of some very serious software like Maya 3D and unleash your creativity.
This should take you a while.
65. Take a long soak in the tub
Soak out all the week's stress while enjoying the suds.
15 Productive Things To Do When Bored At Home
You're stuck at home with a serious case of the blahs, huh? Don't let lethargy get the best of you. You can use your free time to get something done. It will help you kill the boredom. We have compiled some easy productive things to do when bored. Thank us later.
66. Write Thank You Messages
Have some people you need to thank for something. Now's a good time.
67. Learn to Speed Read
This is one skill every man needs.
68. Organize Your Desk and Declutter
Clutter can affect your productivity.
69. Watch a Ted Talk
There's always something fascinating to learn.
70. Review your Investments
How are you doing on the investments front?
71. Draft a five-year plan.
Start making a detailed plan for the next five years is a good way to spend your Sunday.
72. Leave positive reviews for the purchases or places you love
This is a great way to appreciate the seller.
73. Look for cheap flights
Planning a trip? You might as well book your flights early.
74. Put together a meal plan.
Part of being healthy is eating healthy. Plan for your health.
75. Read a book.
Does your favorite author have a new title out?
76. Organise your bills and paperwork.
It's easy to fall behind on bills when you're so caught up in work.
77. Put together an emergency bag.
It's always good to have an emergency bag on hand.
78. Look up volunteer opportunities near you
If you really need to get out of the house, you can do some good while you're out.
79. Toss everything that's expired or questionable in your fridge
Then, use that space to fill it with your favorite foods.
80. Do your taxes
You can remove all the April stress just by getting to these a bit earlier.
15 Things To Do Over The Summer When Bored At Home
Summer is fun. You want to spend all your day outdoors. But sometimes the days are just too hot and muggy to head out for too long. It gets even worse when it rains. The thunderstorms can keep you in for days. You can easily get stir-crazy and bored if you don't have a plan. We have some things to do over the summer to help kick the boredom away. You won't be leaving the house this summer.
81. Learn how to dance
Dancing can improve your fitness and keep you entertained.
82. start a Youtube channel.
Everyone should have this on their bucket-list.
83. Start a radioshow.
This can be tons of fun.
84. Find a craft project
You can never go wrong with a craft project.
85. Write a novel.
You'll enjoy this if you love writing.
86. Fake a vacation
Let the power of imagination work for you.
87. make homemade icecream
Yum yum...
88. Update your wardrobe
Throw out the clothes you no longer wear to make room for new ones.
89. Fill up your inflatable pool
Now that sounds like fun, huh?
90. Enter an online contest
You might just win.
91. Arrange a photoshoot with friends at home.
Some Instagram-worthy photos to kill time.
92. Go stargazing
Invite your girlfriend over for this.
93. Have friends over to play basketball.
A round of basketball can be therapeutic.
94. Walk the dog
Even the dog deserves some action.
95. Learn to meditate
Find peace, wisdom, tranquility, and adventure all by learning to value sitting still.
96. Watch the sunset
Or the sunrise. Either way, it's not just for jet lag.
How to Pick the Best Things To Do When Bored At Home
Coming up with things to do when you're bored can be a mind-wracking affair. As usual, we have your back. Here's how to get out of that rut.
1. Write Down Your Interests
First things first: figure out what kind of things interest you. You see, picking an activity is the easy part. Picking one that you'll be excited about is a whole different ball game. If you'll be doing it with someone else, make sure to consider their interests too.
2. Come Up with a Budget
Ka-ching! You know what they say - there ain't no free lunch. Figure out how much you want to spend. Of course, there are a ton of things to do at home for free. But you might be required to splurge some cash if your interests call for it. For example, if you're inviting the boys over for barbeque and drinks, you'll need some money.
3. Consider what your home offers
Not every activity above is possible at everyone's home. If you've got an apartment in the city, you probably don't have a yard where you can plant a garden. If you share a kitchen with roommates, taking up the stove for a whole night of cooking will make you very unpopular.
So, you can begin to prune your options simply by considering which stuff to do at home are simply impractical.
4. How much time do you have?
Another limiting factor is time. Earning a degree at an online university, for instance, isn't really something you do for an hour on the one Sunday you have free for the next six months. Instead, you might want to watch a movie or organize your email or schedule.
On the other hand, if you constantly find yourself at home and looking for something to do, longer term investments like taking up gardening would be better than constantly picking a new activity every time you're home.
5. Are you looking for fun or practical activities?
Once you've sorted through what's possible and what you have time for, you can really get into which activities achieve the goals you want to achieve. Some of the things on the lists above are really just for kicks. Poker nights, learning to juggle, fantasy sports: that's just straight, simple entertainment.
Other activities involve working out, organizing yourself, and doing your taxes are obviously more practical.
Both kinds of activities are worthwhile, but when choosing make sure you'll get the kind of experience you're looking for.
6. Try Something New
You may not realize it, but you spend most of your time doing the same things you've always done. A new experience can invigorate your life in ways you hadn't imagined. Pick a few things you've never tried. It doesn't have to be novel or risky. For example, you could try out a new recipe. Pry yourself out of the jaws of boredom by getting out of your comfort zone.
7. Pick activities that suit the people involved
Your choice of activities vary greatly depending on whether you're doing them alone or with others. Some stuff, like cooking a big meal or riding a bike around the neighborhood, are great alone or in company, but others require either solitude or a group.
Poker isn't any fun alone, and no one wants to sit around and discuss your schedule for the upcoming week. Decide whether this is a solo at-home day or an at-home group event before choosing what you want to do.
8. Get Some Inspiration
Get tips from friends and family. You can also get tons of ideas online. There's plenty of information about indoor activities to help keep boredom at bay.
9. Remember, Ultimately, It's About You
Lastly, what is "fun" is subjective. This is about what you find fun. If you find coloring entertaining and rewarding, do it. If you find finishing your taxes early, do that. Don't sacrifice your fun for that of others just because you think you have to.
Downloadable and Printable List of Things To Do When Bored At Home
Here is a downloadable and printable list of Things To Do When Bored At Home (right click the image and select Save Image As...)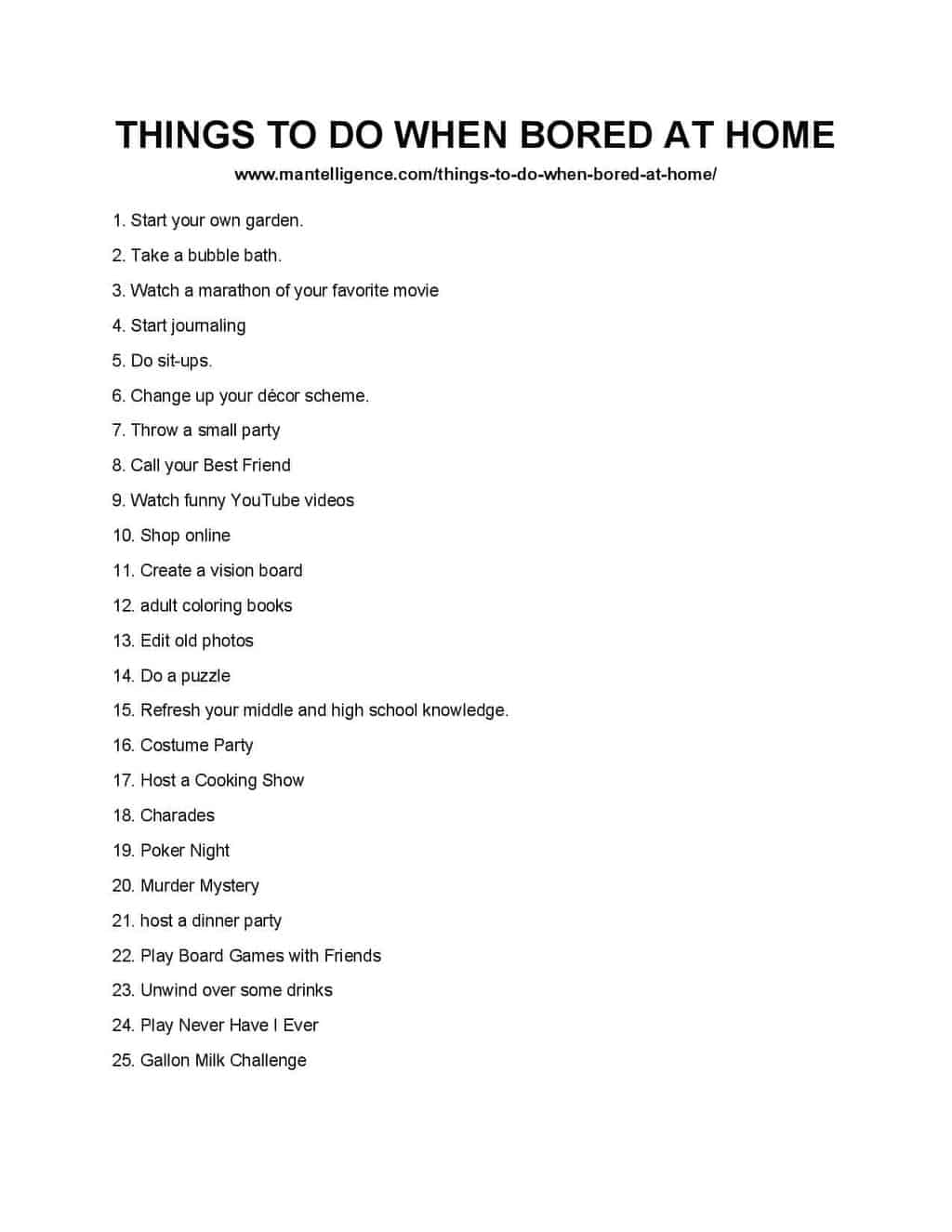 More Fun Ways To Spend Your time
At Mantelligence, we love having fun. We believe every man should make time to have fun – either on their own or with loved ones. If you can't get enough of the fun activities on our list, we have more where that came from.
In Conclusion
Restless? Fidgety? In need of some inspiration? Staying home can be a nerve-wracking affair when you have nothing to do. Having a list of things to do when bored at home should inject some excitement into your life.