57 Fun Hobbies for Couples – The only list of hobby ideas you'll need!
Strong relationships are built on great hobbies for couples.
Sharing hobbies in a relationship can be a powerful way to connect with each other, develop a stronger, more intimate bond, and keep your relationship fun and interesting. While you certainly don't need to share every interest 100% with each other, being willing to indulge in whatever catches either of your interests can be an exciting way of expanding your personal horizons.
If you've never tried out any hobbies for couples, chances are it's not because you're not interested in sharing fun activities with your significant other, but rather that you just don't have any good couples hobby ideas… and we're here to help with that! Check out this list of hobbies for couples to refresh your mind with fantastic new ideas for ways to come together and have more fun with your girlfriend.
Contents
9 Best Hobbies for Couples
The best hobbies for couples get you and your girlfriend active and engaged with each other and the activity, so that you can learn to share a little piece of the world that not everyone gets to see.
Here are the 9 best hobbies for couples:
1. Tennis
Tennis great Andre Agassi called every game "a life in miniature", making it a perfect way to connect with your partner.
2. Photography
The internet is full of advice for couples aspiring to great photography for good reason: It can capture a moment in time for you two to re-live together at a later date.
3. Ballroom dancing
Sex and dancing are intimately tied together, and if that's not reason enough to take it up as a hobby together, I don't know what is.
4. Board Game Club
With a huge variety of mentally-stimulating board games available today, finding a club with a wide selection can open both of you up to new ways of thinking and interacting with each other.
5. Volunteering
Get together to do some good in the world, and you'll likely find plenty of supportive friends that will enrich your life together as a couple.
6. Traveling
Couples who travel together end up sharing a common goal and purpose that strengthens their relationship, even after the trips are finished.
7. Painting
Making art is good for your brain, and can change your thinking towards more positive and creative outcomes, which is an essential skill to keep relationships happy and healthy.
8. Sailing
Being on a boat combines freedom, teamwork, responsibility, and skill, which is an excellent range of traits to encourage in your relationship.
9. Learning a New Sport
Getting physical together can encourage cooperation and build a light-hearted competition that may spice up your interactions as a couple.
8 Hobbies for Couples that Make Money
Looking to add a little extra to your savings each month? Starting hobbies that make money together can give you an outlet that is both fun and profitable, letting you work together towards the life that you most want to be living.
Here are 8 hobbies for couples that make money:
10. Baking
Equal parts science and artistry, baking can appeal to both masculine and feminine traits. Even if you don't sell all of your works, you'll always have delicious food around the house!
11. Refinishing furniture
With a little bit of creative effort and a touch of hard work, you can learn to turn someone else's cast-away furniture into beautiful, functional works of art together.
12. Flea Market Shopping
Thrift shopping feels like one big treasure hunt, and can be a great way to incorporate both of your knowledge of other hobbies and products into a viable re-sale business on Etsy or eBay.
13. Starting a Blog Together
Already have a hobby that you enjoy together? Think about turning it into a blog, where you can share insights with other people aspiring to do the same thing.
14. Catering
Cooking together can improve your relationship, and sharing the product of your work together with others can be a great way to make new connections in your community.
15. Making Music
Even the most basic of musical collaboration can lead to casual gigs around your neighborhood for holidays and events. If you're not ready to write your own songs, try learning a few popular covers together, first.
16. Arts and Crafts
From jewelry making to greeting cards to leatherwork and more, any art or craft can be turned into a thriving Etsy business or sold at local markets.
17. Beekeeping
Have a backyard together? Keep some bees in it! Not only will you be helping the planet, but may end up with a side business selling honey at farmers' markets.
10 Hobbies for Couples, that Men Love
Getting in touch with your masculine qualities together can be empowering for both parties in the relationship, making these hobbies for men a great option for couples of every type. Ask her to embrace her strong, capable side.
Here are 10 hobbies for couples that men love:
18. Martial Arts
Learning to defend yourself is an essential skill for people of all genders, and practicing martial arts together means you always have a partner for drills at home.
19. Hiking
Getting out into the great outdoors clears the mind and refreshes the spirit, giving you a chance to connect with each other more genuinely than in everyday life.
20. Working out/weightlifting
Lifting weights is a continual process of setting and meeting goals, which leads to a powerful sense of self-confidence — and having a workout buddy can help keep you both on track with it.
21. Jogging/Training for Marathon
Running is one of mankind's oldest skills, and has a way of putting you in touch with our roots as people. Having a partner makes the process infinitely more rewarding.
22. Urban Exploration
There's a whole world of hidden sights to see in your city, and setting out to explore it together can be fun, exciting, and occasionally frightening — perfect for the adventurous couple!
23. Camping
What's better than a clear view of the night sky? Sharing it together. Zip those sleeping bags up in tandem and share in the beauty of the natural world together.
24. Golf
A fantastic all-day outing, golf can be a chance to learn and share technical and athletic skills in an environment that can be as competitive or as friendly as you want.
25. Mountaineering
More strenuous than a simple hike, mountaineering can quite literally take your relationship to new heights. Plus, it's a perfect activity to plan travel outings around.
26. Surfing
For contemplative thought and feeling while getting your daily activity in, it's hard to beat surfing. Give yourselves a perfect opportunity to plan more beach trips together.
27. Laser tag
For the urban soldier in anyone, laser tag can give you a taste of war games without any of the commitment (or painful welts) of paintball.
8 Hobbies for Couples, that Women Love
Taking time for the softer, more feminine side of hobbies can be a wonderful complement to the intense masculinity of sports and physically-strenuous hobbies. Together, they can lead you closer together as a couple.
Here are 8 hobbies for couples that women love:
28. Touring Wineries
Get your wine vocabulary in full swing and you'll be ready to impress at your next dinner party or outing to a classy bar.
29. Cheese Tasting
Europe's long tradition of pairing cheese and wine for afternoon outings should give you a good idea of why indulging your decadence can be a great activity to share in as a couple.
30. Pottery
Tactile and creative, throwing or hand-shaping pottery together can give you a relaxing, mind-opening hobby to share with each other (and a potential side business, if you find yourself to have a knack for it).
31. Dancing
Relationships have been compared to dancing for good reason: The give-and-take of dancing makes an almost-perfect metaphor for a healthy, successful relationship.
32. Yoga
The Indian art of "the way", yoga can help both of you tune in to your bodies' inherent wisdom for healing and connection, while building lean and flexible physiques.
33. Calligraphy
Learning to write more beautifully can add a personalized touch to letters and greeting cards, and has been celebrated as a fine art in Asia for centuries.
34. Book Clubs
Sharing your thoughts with a reading group can create intellectual bonds that are uncommon in today's society, making it an excellent activity to expand your horizons as a couple.
35. Star Gazing
Amateur astronomy can take you back to a time as a kid when the whole world felt full of undiscovered wonders, and develop an appreciation of the cycles of time that comprise our lives as humans.
9 Conversation-Based Hobbies for Couples
Improving your conversation skills in your relationship is a sure way to strengthen the bond you share with your partner.
Here are 8 conversation-based hobbies for couples:
36. Ask Would You Rather Questions for Couples
Playing a game of "would you rather" is a classic party activity that can help you both learn more about each other. Try these would you rather questions for couples to jump-start your game.
37. Ask Questions for Couples
Setting time aside just to ask each other questions can give you the personal time to really connect on a deeper level. Use our questions for couples if you're searching for new inspiration.
38. Ask Get to Know You Questions
Learning more about each other will strengthen your relationship, whether you've been dating for two months or two years. Check out our great list of get to know you questions for couples to get a head-start on great inquiries.
39. This or That Questions
A fun and humorous game of options, playing "this or that" with your significant other can get you both laughing together. See our list of this or that questions to get some inventive ideas for questions to ask each other.
40. Art collecting
The history of art spans the history of all humankind, which guarantees that you can find a topic of meaningful discussion for you and your girlfriend.
41. Bird watching
Communing with nature can give your mind a rest from the stress of modern life, and give you and your partner a whole new realm of life to discuss with each other.
42. Learning a musical instrument
Learning to play a new instrument changes the way your brain works, positively affecting your ability to deal with stress and challenges in life — two essential skills for any relationship.
43. Learning a new language
Learning a new language alters your brain chemistry, and opens up new ways of thinking about and seeing the world with your partner.
44. Origami
The ancient art of paper folding has mysterious origins, and is a wonderfully relaxing hobby to take up with your partner. As you learn to create new forms from simple paper, you can share your discoveries with each other.
6 Hobbies for Couples at Home
You don't need to leave the house to find an engaging, exciting hobby that can bring enliven your relationship. Enjoy the comforts of home while staying active together.
Here are 6 hobbies for couples at home:
45. Video Games
Long considered a hobby for boys, co-op video gaming has changed the face of the industry and made it much more inclusive for couples of all ages.
46. Gardening
Engaging in the regular, seasonal activity of gardening can provide a rhythm to your daily life as a couple that will help put you more in-tune with each others' minds and bodies.
47. Cooking
Couples who cook together tend to stay together, because sharing in every part of a meal is an intimate experience that is difficult if not impossible to duplicate with any other activity.
48. Homesteading
Ready to embrace your wild roots together? Taking on the project of homesteading can build your pride together as homeowners and partners in the cultivation of the earth and your relationship.
49. Food Preservation (Pickling, Canning)
If you already have a thriving garden, learning to preserve your foods is a logical next step to stretch your food bounty over the cold winter months.
50. Meditation
Meditation has such a wide range of health benefits that it's almost a no-brainer to start up a regular practice. Having a partner to keep you motivated makes maintaining a practice that much easier and more rewarding.
Indoor Hobbies for couples
When you're in a romantic partnership, you know that every night can't be a big night out. We all have to work, relax, and accept when the weather denies us the opportunity for time outdoors. That's where having some great indoor hobbies for couples can make all the difference. Pick a few of these hobbies, so you can look forward to those days and nights inside with your partner.
51. getting good at scrabble
Increase your vocabulary and become masters of the game.
52. escapology
Train each other to be the next Houdini.
53. survivalist prepping
This way, you can both be confident to survive the apocalypse.
54. cake decorating
Create beautiful works of art, then eat them together.
55. tap dancing
The classic dance style of classic Hollywood, now your evening entertainment.
56. mastering charades
You two can get so good your friends won't let you play on the same team when they're over.
57. greeting card making
Making cards for each other for amusement, then send them to friends.
Downloadable list of Fun Hobbies for Couples
Here is a downloadable list of fun hobbies for couples (right click the image and select Save Image As…) :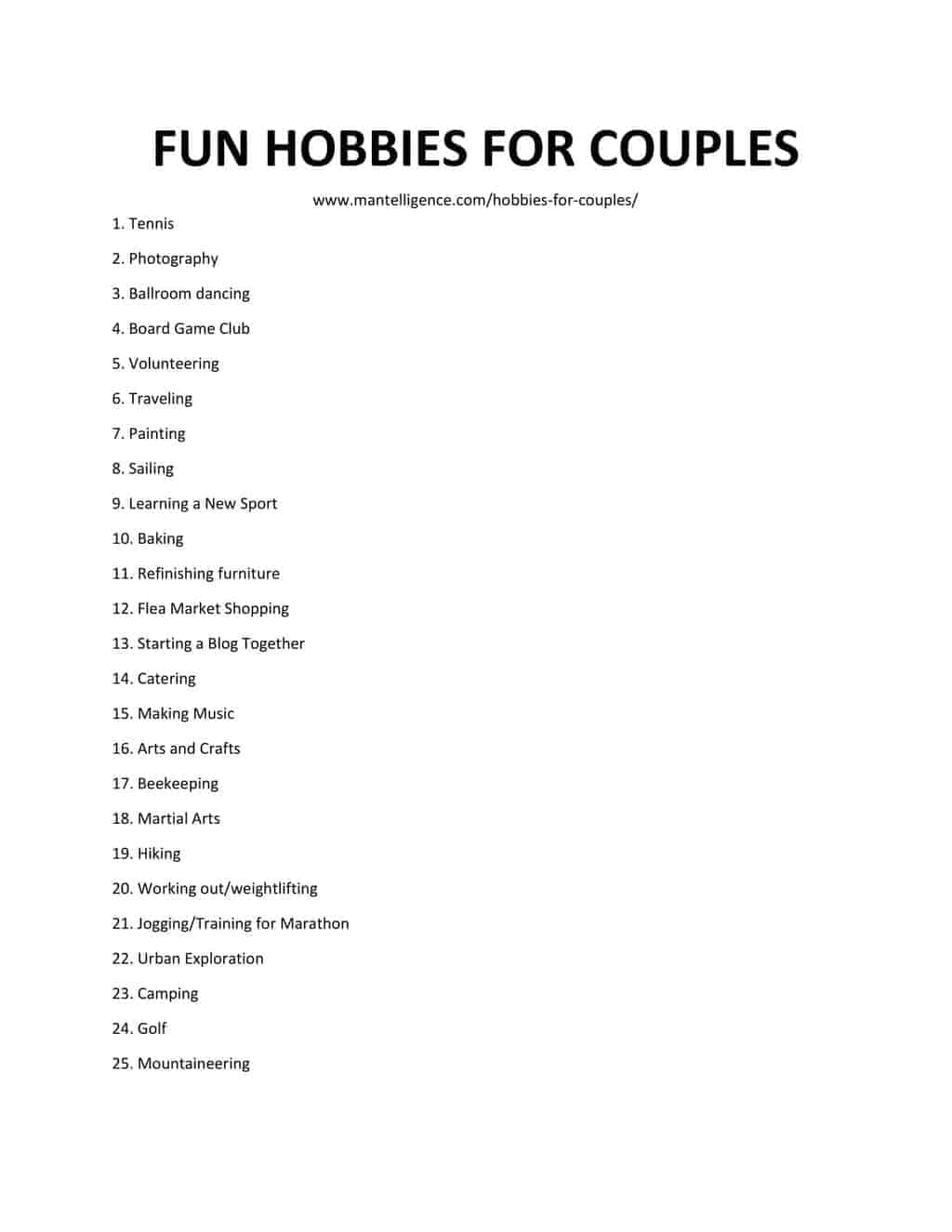 In Conclusion
Taking up any of these hobbies for couples together as a couple can be a powerful way to affirm and strengthen your connection with each other.
Whether at home or out on the town, active or passive, making a commitment to stay engaged with each other through a new hobby or activity is sure to make your relationship better and more rewarding.
Use our list of hobbies to find the best hobby idea for you and yours… and get started with your exciting new hobby today!