Pick from a variety of new men's haircuts, so why stick with the same boring hairstyles for men?
If you're looking to switch up your style, it's always a solid choice to start at the top - with that beautiful head of hair.
News flash: about fifty percent of men go bald before they're 50, so you only have a limited amount of time to try new men's haircuts and squeeze every ounce of enjoyment out of your hair. So enjoy it, while you still can!
Contents
15 Best Men's Haircuts
Of course, you need to be careful when experimenting with your hair. That's why it's always a good idea to go with the best men's haircut styles available right now. Overall, we feel that these are the most stylish options today.
1. Short Textured Haircut For Men
The short textured haircut is something of a "jack of all trades" in the hair department. If you have thicker hair, adding a little bit of texture helps you create shape while keeping your hair neat and tidy.
2. Spiky Modern Undercut
A spiky undercut adds even more flair to your normal, run-of-the-mill shaven sides cut. Spiky hair is a huge trend for 2019, and the closely shaven sides of an undercut help tame this relatively messy and wild style.
3. Medium Length Haircut For Men With Natural Flow
The medium-length cut is a solid choice for guys who have naturally flowing hair. Although this type of cut was huge back in the 80s, it's back in the men's hairstyles department with a boom these days.
4. Classic Combed Back Style
This style has been around since before your grandpa, and guess what? It's still one of the most eye-catching men's haircuts today. Although a classic combed back style is fairly formal, it's also surprisingly versatile.
5. High and Tight with Side Part
We know - it seems like everyone is rocking a fade these days. Even though you might love this style, it's sometimes a little difficult to stand apart from the crowd.
One way to add a little flair to your fade is by adding a side part, or "hard part."
6. Messy French Crop
The messy French crop is a solid hair cut for men if you want a fade that's a little less clean. This look is very European and looks great on anyone who wants to look like a rockstar.
7. High & Tight Men's Hair Style
For those who want to take a minimalist approach to their hairstyle, the high and tight is a solid option. Ask for a high fade, keep it short on the top, and you really can't go wrong.
8. Undercut
The undercut is perfect if you like the clean, striking aspect of shaven sides, but you also like having a little bit of hair to play with on the top. You can style your longer hair on the top or keep it messy.
9. Caesar Cut
Yes, this haircut really was the choice of Julius Caesar of Ancient Rome. He is often depicted with this short style that features clean bangs, and it still looks eye-catching today.
10. Spiky Low Fade Haircut
The spiky low fade is identical to the aforementioned spiky modern undercut, but it adds in (duh) a fade instead of the normal tapered sides. Adding spiky texture to the top of your head is a great way to help your fade stand out.
11. Tousled Balayage Hair
This is a much-loved "intentionally" messy haircut that can be difficult to pull off. That being said, it's always a hit when you manage to pull it off.
12. Natural Waves
Let's face it - you can easily go too far with waves. By keeping waves natural, you can rock this look with confidence. Waves are always a solid choice among men's hairstyles, especially for men with curly and thick hair.
13. Buzzcut
There is very little maintenance required with this time-honored classic. In fact, you can do it yourself with a regular electronic shaver!
14. Modified Pompadour
Although the pompadour was considered dead and buried for years after its golden age in the 50s, it's now back with a vengeance. The best way to pull this haircut off today is by modifying it with a fade or an undercut.
15. Quiff
While some argue that pompadours and quiffs are one and the same, the general consensus is that a quiff is a messier, less precise version of the pompadour.
11 Men's Short Haircuts
Keeping your hair short is a smart move because there's less chance of your hair becoming messy, and these men's haircuts generally look more formal.
That being said, a lot of guys assume that having your hair short means fewer options because you have less length. Check out these options for plenty of amazing choices
16. Men's Short Fade Haircut
Fades are getting more and more popular, and it's a smart choice if you like having your hair short and want to keep up with the trends of men's hairstyles.
17. Short Curls
Short curls are a smart move for all those guys out there with short hair who want to embrace their curly, thick hair. By keeping your hair short on the sides, you can let the curls break free through the top.
18. Messy Spikes
A lot of guys avoid short, spiky hair because they think it looks too rehearsed. If you like having your hair short and you want to rock some spikes, try taking a messier approach.
19. Mid Fade Haircut
Fades are always a solid hair cut for men who like to keep their hair short, and the mid fade strikes a nice balance between a low and a high fade. A mid fade is essentially the "classic" fade.
20. Crew Cut
If you like buzz cuts but you want a little extra hair on the top with slightly tapered sides, the crew cut is for you. This is one of the cleanest men's haircuts you can aim for if you prefer shorter hairstyles.
21. Short Quiff Haircut
You can still rock a pompadour or quiff without it getting larger than life. A short quiff is a great way to rock that 50's "Elvis" style while keeping everything neat, short, and contained.
22. Short Curly Hair Fade
This style is almost identical to short curls, but with a fade for even more contrast. This is a great cut for guys with short, curly hair who want to try a fade.
23. Short Side Part Haircuts
We all know that short hair is generally more formal compared to longer cuts, and you might need to keep your hair relatively short if you work at an office or a similar environment.
24. Short Pompadour
A short pompadour is exactly like a short quiff, aside from the fact that it's glossier and more polished. This cut is ideal if you want a shorter pompadour and you still want to maintain that precise styling.
25. Short Sides Textured Top
For many men, short sides and a textured top is an excellent "middle ground" choice for a slightly messy, refined look.
26. Fringe Crew
At home on the soccer pitch or on the fashion runway, the fringe crew is versatile, trendy, and masculine style. It's a perfect option if you like short hair and you want to try something a little different.
7 Long Hairstyles For Men
Letting your hair grow out nice and long is an amazing feeling. While some men will never go down this road, others seem like they were born to rock long hair.
While long hair can be a little hit-or-miss, you can be relatively confident in those flowing locks if you choose one of these long hairstyles for men.
27. Long Textured Waves
If you like the general shape of a pompadour but you can face styling it every morning, just let it go. You'll be left with long textured waves, and this layered effect creates a nice messy look.
28. Long Braids
Braids look amazing on men with long hair, and this hairstyle is an incredible choice if you want to go for that "warrior" aesthetic. Braids also keep your long hair tight and secure.
29. Shoulder Length Side Part
Keanu Reeves often rocks this hairstyle, and we can't argue with his choice.
A shoulder-length side part can look distinguished and elegant, and this hairstyle is an excellent choice for men with long hair who want to pursue a mature aesthetic.
30. Ponytail with Side Bangs
Even though a ponytail might not sound like the most masculine choice, you can actually achieve a very "ninja-esque" vibe with this haircut for men.
31. Undercut with Long Man Bun
If you're feeling torn between long and short hair, why not choose the best of both worlds? The undercut with a long man bun keeps the sides short for a neat look.
32. Half Up Half Braid
If you can't choose between braids and a man bun, don't worry - you can have both! You can let your hair down while still achieving the tight, clean look of a man bun.
33. Long Braid, Shaved Sides Hairstyles
If you've ever seen the show Vikings, you'll know that Ragnar makes this haircut look incredible. If you love the feeling of shaved sides, this is an excellent long hairstyle.
6 Men's Fade Haircuts
There's no denying it - the fade is so in right now. The best thing about a fade is that there are so many options.
We've compiled a list of the very best men's fade haircuts, and choosing one of these men's haircuts can help you personalize your fade so that it reflects your personality and style.
34. Blowout Haircut
The blowout style is a solid choice if you want to have a lot of length on the top of your fade. It features tapered sides around the temple.
35. Burst Fade
If you want to keep your hair at the back of your head instead of just leaving it on the top, go for a burst fade. This fade tapers in a semi-circle around the ear.
36. Low Bald Fade
The low bald fade is an excellent choice for the summer as it cuts the hair right down to the skin on the sides. You can keep the top as lengthy as you'd like.
37. The Taper Fade
A taper fade features a much more gradual transition between the long hair on the top and the short hair on the sides. This is a solid choice if you don't want an "extreme" fade but still sport one of the trendiest men's hairstyles.
38. The Scissor Fade
As the name implies, scissors are used to create the scissor fade - and the clipper is left out of the equation. This creates an even more gradual fade.
39. Comb-Over Fade
The comb-over fade is a versatile, formal haircut that's perfect for the office. This cut is styled so that the hair on the top can be combed to one side and combined with the fade.
6 Men's Medium Hairstyles
A men's medium hairstyle is generally seen as a safe choice - but it doesn't have to be boring. If you like to keep your hair at medium length and you'd like to try some new styling options, look no further than these men's haircuts.
40. Mid Length Taper
The mid-length taper is a solid choice for men who like having short sides and a long top, but don't want to go to the extremes of a fade. You can brush your hair on the top back or keep it messy.
41. Medium Length Hair Blow Dried Back
If you want your swept-back hair to stay in place, a blow dryer makes this style much easier to pull off. With the hair fully dry, your styling paste or pomade can shape your hair into a striking style.
42. Cool Waved Pompadour
If you like the look of a pompadour but it seems a little too stiff and refined for you, try adding some waves to the equation. This effect adds tons of quirky character to your pomp.
43. Side Part Pomp
The side-parted pompadour is another solid option for adding more character to your pompadour. This style goes incredibly well with a fade.
44. Disoriented Quiff
The disoriented quiff is essentially just a messier quiff. You can add tons of volume and pizzazz to a quiff with styled sides that are slightly pulled upwards.
45. Windswept
Windswept hair is great for men who don't want to play by the rules. You're basically just messing your hair up - but in a way that makes your top hair look like it's been swept to one side.
5 Low Maintenance Men's Haircuts
Having great hair is an amazing feeling - but how much time are you really willing to spend styling it each day?
If you're looking for some stylish low maintenance men's haircuts, these options will keep you looking fresh without draining hours of your precious time.
46. Ivy League
The Ivy League haircut is one of the neatest, most formal men's haircuts you can pull off and it requires almost zero maintenance. Think Matt Damon from The Bourne Identity.
47. V Fade Hairstyle with Textured Slick Back
The V fade is named for the V shape created at the back of the neck. Match this style with a textured, slicked-back top, and you'll be spending 5 minutes tops styling your hair every morning.
48. Long Buzzcut
A longer buzzcut is a smart move if you don't feel like returning to the barber quickly. A completely shaven head quickly grows back, but a long buzzcut maintains its length.
49. The Regulation Cut
The regulation cut is one of the most low-maintenance men's haircuts ever. Shave the top of your head down to a "number 3" and taper the sides, and you can let it grow out.
50. The Induction Cut
The induction cut is when you shave your hair as short as possible without using a razor. It's simple but effective, and you can do this one at home easily.
Downloadable and Printable List of Men's Haircuts
Here is a downloadable and printable list of men's haircuts (right click the image and select Save Image As...):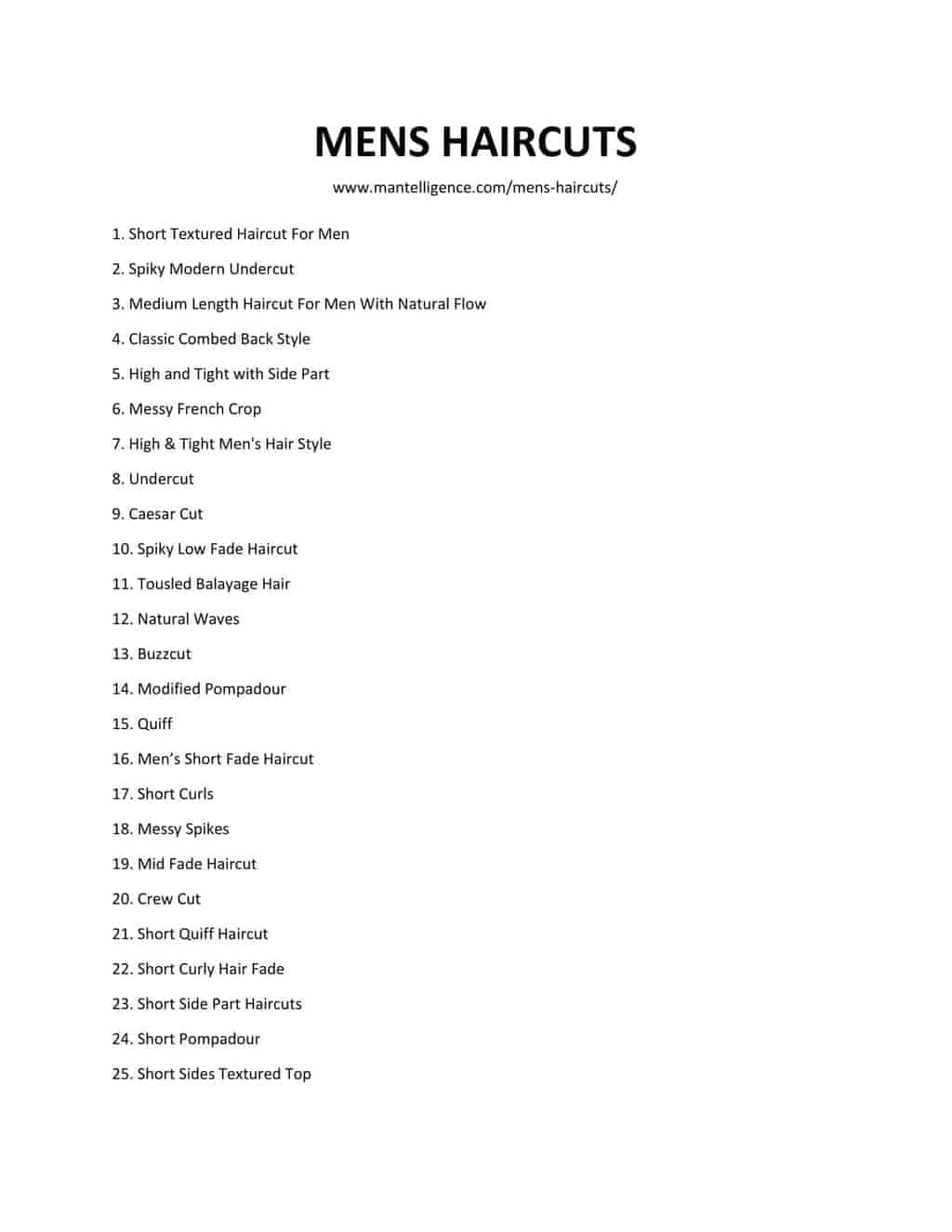 How To Pick The Best Men's Haircut
We know - we've given you a lot of options to choose from. If you're feeling a little overwhelmed, here are some steps you can take to narrow down the choices.
1. Pick The Right Style For Your Hair Type
There are certain styles that are better suited to certain hair types. Although you can style your hair to give yourself more freedom, it's better to pick styles that seem natural - whether you have thick, thin, fair, curly, or straight hair.
2. Consider Your Work Environment
While it might be tempting to get a wild, crazy haircut, these styles sometimes aren't exactly practical. Consider what you'll be doing in your professional life before pulling the trigger on an "out there" haircut.
3. Get Some Inspiration
If you're not sure what to do with your hair, the internet is filled with all kinds of amazing inspiration. Check out Pinterest for a range of trendy haircuts to consider, or look at what some of your favorite actors are doing with their hair.
More Men's Fashion Tips
Choosing an eye-catching haircut isn't the only way to improve your style. Here are some other tips to consider:
If you're looking for more ways to take your style to the next level that aren't just limited to your haircut, try these tricks that will instantly improve your style
If you've already got your haircut on lock and you're looking to take your wardrobe to the next level, consider these sexy things guys wear that girls love
And if you've already tackled the basics and you're looking for that "x-factor" that'll get the ladies' attention, try out these 7 Style Tricks That Make You More Attractive to Women
In Conclusion
Choosing the right men's haircut can seem difficult, but all you need to do is pick a hairstyle that fits your personality!
With this approach, you'll always feel comfortable and stylish.