Did you know: it's been proven by countless studies that if you dress well, your life will be both easier and better?
From being more attractive to women (both sexually and as relationship material) to being more likely to get promoted (and to making more money over the lifetime of your career)... dressing well gives you a long list of powerful benefits.
Now: dressing well means something a little different to everyone... but there are certain rules (and tips) that every guy should follow. And so, to help jump start your style (or to help you improve it) I put together a list of the 21 biggest and best style rules + tips that every man should know.
Note: Big thanks to Anson Belt & Buckle for partnering with us to make this post possible. I use their innovative, holeless belt to help with style tips/rules #'s 3 and 5.
21 Style Rules + Tips Every Man Should Know
Note: the further you get down the list, the more formal these rules get... and all the tips/rules after #10 are specific to more formal, professional clothing.
#11: Line Up The 'Gig Line' [Tip] (read more)
#12: Always Leave Your Bottom Button Unbuttoned [Rule] (read more)
#13 Unbutton Your Jacket When You Sit Down [Rule] (read more)
#14: Practice Dressing Up [Tip] (read more)
#15: Never Wear Suspenders With A Belt [Rule] (read more)
#16: Never Wear A Sports Watch/Sports Sunglasses With A Suit [Rule] (read more)
#17: Show Your Shirt Cuffs (And Show The Right Amount) [Rule] (read more)
#18: Always Iron Your Clothes [Rule] (read more)
#19: Wear Your Tie At The Right Length [Rule] (read more)
#20: Match Your Suit With Your Dress Shoes [Rule] (read more)
#21: Patent Leather Shoes Should Be Reserved For Formal Events [Tip] (read more)
#22: Always Pay Attention To The Gig Line (read more)
Tips/Rules for Your Everyday Look (10 Tips/Rules)
These 10 tips/rules will help you look better/more put together when you're wearing casual to everyday clothing:
Guys... this is the most important rule on this entire list:
If your clothes don't fit, don't wear them. Why? Plain and simple, clothes that don't fit well make you look bad. If they're too big: you look sloppy, less muscular, and sometimes fatter than you are... if they're too small: it looks ridiculous and is uncomfortable.
Now: will buying clothes that actually fit take you more time/cost more? Yes. Will it make a bigger difference than anything else on this list? Yes... so: if you're not willing/able to take the time/spend the money on getting the fit correctly, then come back to this post when it is/you can.
First: unless you're a prepubescent teenager, don't sag. Second: wear your pants where that specific pair was meant to be worn.
...But what does that mean? Well each pair of pants (or shorts) is made to be worn at a certain point on your body (usually just above your hips or on your waist). And, if you bought pants that fit you correctly, it's usually pretty easy to tell where they're meant to worn (button them up... do they fit better on your waist or your hips)?
Now... generally speaking: wear dress pants at your waist, and casual pants/short at your hips.
This one is simple: the color of your belt, shoes, and watch (band) should all match.
So... for example: if you wear black shoes, you should wear a black belt + black watch band. It's one of those old, classic style rules... but it helps you look well-put-together and polished (like you consciously chose the outfit you're wearing).
PS: don't overthink this one. All you really need is one black and one brown belt (here are the ones I wear) and one black and one brown watch (here are the ones I wear).
Have you ever heard someone say, "if you want to know if a person knows how to dress, check their shoes"?
No? Okay, I might have just made it up... but it's usually a pretty good indicator. See, your shoes tie your whole outfit together... and if they look bad, you look bad. So, never wear sloppy, worn-down, ratty shoes... shoes that:
Have holes in them
Have detaching, dangling soles
Are overly scratched/scuffed
Dirty (to the point that they can't be cleaned)
Discolored
...And if you're wondering if your shoes fit the above criteria, ask yourself, "would I wear these on a first date with a beautiful woman?" If the answer is no, throw them away.
Just like #4 above, if your belt looks sloppy, you look sloppy.
Now: you might be asking, 'do people really notice this?' The answer is a big yes... and to prove it to you: imagine our president walking into a meeting with the world's leaders wearing the above belt... it's a ridiculous, cringe-worthy, almost painful thought, right?
So... don't wear a belt that:
Has holes that are tearing/stretched out
Has leather that is missing or peeling
Is scored, marked, or torn
Is otherwise sloppy
Oh and ps: as further incentive, our own Robin Sutherns says she thinks that a man wearing a torn-up, ratty belt is a huge turn off.
A Note from the Editor, Kyle: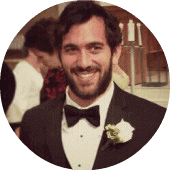 Guys, you know I'm a huge fan of Anson Belt & Buckle. And not only do I consider both owners, Frank and David Ferree, my good friends, but I also wear their belts (literally) each and every day. Why? Two reasons:
First: they're so much more comfortable than traditional belts. When I used to wear an old-school, 5-hole belt, it just never felt like it was on correctly (it was always too loose or too tight). But with Anson's microadjusting technology, it always fits perfectly (to the point where I now flat refuse to wear anything else). And second: traditional belts always end up looking like that ratty, old, mess-of-a-belt (shown above)... but after wearing my Anson belt for over 2 years, it still looks great. Here's what their belts look like (back and front):
Now: where a traditional belt has 5 holes, set 1 inch apart, Anson's belts have 30 holes, set 1/4" apart. In other words: it has 6x the hole options, and has them 4x more frequently. And that means: it is designed to fit you perfectly (and be incredibly comfortably)... and designed so that you don't have to stretch it out, just to put it on (so it won't turn into a ratty mess).
Guys, Anson is my belt... and I highly recommend you try one to see if it makes as big of a change for you, as it did for me:
Click here to check out Anson's uniquely designed holeless belt
I've said it countless times before... every man should wear a wristwatch.
It can significantly improve your overall style... give you the James Bond effect... and connect you with history's great men. And for these reasons, and a long list of others, you should wear one... almost all of the time.
So, when should you not wear a wristwatch? Basically, when it doesn't make sense (think: working out, playing a sport, going to the beach, etc.).
By buying clothes that are designed to work well together, you'll have less clothes that create more different, and unique outfits. In other words: you'll have less clothes that do more.
And even better: it's dramatically cheaper (for under $1,000, you can create a minimalist wardrobe that works in just about any situation/setting).
Guys, classic has been in style for decades (and will still be in style for years to come)... but on the other hand: trends have come and gone (and, generally, tend to fade away quickly).
So, don't waste money on clothes that will soon be outdated... instead, invest in clothes that will be 'in-style' for years to come.
Please, just do it. Enough said.
Similar to #3 above: you should match the color of the metal on your shoes (the buckles), your watch (the watch face, dials, crown), and your belt (the buckle). Just like above, this helps to make everything look cohesive and put together (but this is much less noticeable than #3 (which is why #3 is a rule, and this is one a tip)).
Now: most shoes don't have metal enough metal to matter (monk straps aside), so just focus on matching the metal of your watch and your belt (so... if you have a gold watch face, get a belt with a gold buckle.)
PS: one of my favorite things about Anson belts is that, thanks to their interchangeable buckle system, you can super easily swap out the buckles. So... if you're wearing a watch with a gold face, you can quickly (it takes me under 30 seconds) attach a gold buckle to your belt!
When It's Time To Dress Up (11 Tips/Rules)
When you're dressing up, you should follow all the above tips/rules apply to this section... and these 11 tips/rules:
The "gig line" is formed when there is a straight line from your shirt buttons... to your belt buckle... to your pants zipper.
It makes your outfit look more symmetrical, and makes you look more professional and put together. It's actually a rule for soldiers wearing military uniforms (see the officer on the left above).
PS: thanks to my buddy Andrew from Primer for this tip.
This is an old-school style rule, that's so commonly known, that if you don't do it...
you end up looking like this is your first time wearing a suit.
The reason why? Tradition. In the early 1900's, King Edward VII's stomach got too big for his waistcoat... so to make himself more comfortable, he started unbuttoning its bottom button. As a sign of respect, people started doing the same... and the trend caught on. sourceSo... if you don't want to look like this is your first time wearing a suit, always leave your bottom button undone.
Guys, just like #12 above, if you don't do this... you just end up looking like a suit-rookie.
...But there are also some practical reasons why you should do it: 1) it protects your suit from creasing when you sit down, and 2) it's more comfortable to sit when your coat is unbuttoned.
It's usually obvious when it's someone's first day at a job, right?
Well... it's similarly obvious when someone first starts dressing up (they look uncomfortable, out of place, even nervous). And it makes sense: not only is this guy probably used to wearing something relaxed (like jeans and a t-shirt)... but he's wearing something that the majority of the population doesn't.
So, before you need to dress up, build your 'dressing-up-confidence' by 'practicing'. Doing it is easy, just wear your nicer clothes during a normal day (again, before you need to).
PS: this is (of course) helpful if you need to really 'dress up' (like wearing a suit)... but it's also just as helpful when you want to upgrade your style (say going from wearing loose clothes to more well-fitted clothes (like you should in #1)).
This one is simple: both suspenders and a belt serve the same purpose (keeping your pants up)... so why would you wear both?
It's redundant, looks silly, and makes it seem like you don't know what you're doing.
Imagine again our president walking into a meeting with the world's leaders... this time wearing a nice suit and a pair of running glasses (like the ones seen above). It would look so ridiculous... that the thought is actually laughable, right?
Look: a suit is formal... and sport sunglasses + sports watches are not. So, complete your classy outfit with a classy, classic wristwatch.
This small detail can completely change your outfit's appearance (and when it's incorrect, it makes you look subtly, and surprisingly bad).
Traditionally, you want 1/4" to 1/2" of your shirt's cuff to extend from underneath your coat. Now: if your shirt cuff isn't visible, either your jacket is too big or your shirt sleeves are too short... and if it shows too much, either your jacket is too small or your shirt sleeves are too long.
If your clothes are wrinkled, you look:
Lazy
Unprofessional
Generally bad
...And you don't want any of those words being used to describe you, right? Think about it this way: when's the last time you saw any professional you respect (think: Elon Musk, our president, Bill Gates) wearing a wrinkled shirt?
Never, right? So... take the time to iron (or better yet steam) your clothes.
#19: Wear Your Tie the Right Length [Rule]
Like rule #17, your tie length is a subtle detail, that has a big impact on your overall look.
As a rule of thumb: you want the bottom of your tie to fall between (the top and bottom) of your belt buckle (although if it's 1/2" above or below your buckle, it's okay).
Why? Having your tie at this length helps things looked balanced. Menswear expert, and my buddy, Justin Jeffers explains this well, "When worn too long it can make the whole look frumpy and sloppy. When worn too short the look can look clownish."
I mentioned above how it's important to match your shoes with your outfit (in rules #3 and #10)... and this concept of matching is even more important (and strict) when it comes to suits.
Luckily, matching your shoes to your suit color is pretty easy. Here are 5 common suit colors, and their matching dress shoes:
Navy Blue Suits - black, brown, or burgundy shoes.
Light to Medium Gray Suits - black, brown, and burgundy shoes.
Charcoal Gray Suits - black and burgundy shoes (avoid brown).
Brown Suits - brown and burgundy shoes (avoid black).
Black Suits - only black shoes.
PS: for more detailed information on this, check out this article from my friend Antonio at RMRS.
Patent leather shoes (that have a glossy shine (see above)) are considered more formal than normal dress shoes... and this means that they should reserved for more formal events (like black tie events, weddings, etc.).
Don't wear them outside of these types of events... or you'll likely look out of place.
Ever wondered why military uniforms look so classy and impressive? It has a lot to do with the gig line, a term borrowed from the military.
So what is the gig line, anyway? Well, imagine a straight line that runs down the direct center of the front of your body, from your neck to your crotch. Then, line up everything you wear along this center line: That means the buttons of your shirt, your tie (if you decide to wear one), the center of your belt buckle, and the zipper on your pants.
There's good reason that the gig line is required in the military: It makes you look sharp, professional, and put-together. The next time you're out to look your absolute best, be sure to pay attention to the gig line.
In Conclusion
Guys, there are countless reasons that you should be dressing well.
...And if you use these 21 tips/rules, you'll quickly look like a more stylish and refined gentleman.