91 Funny Questions to Ask – Spark conversations with humor.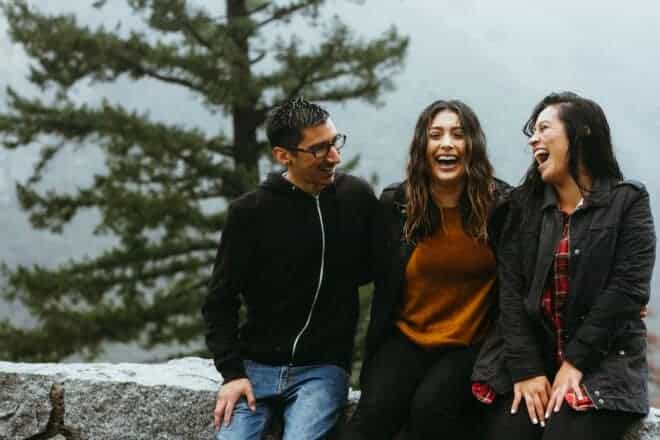 Funny questions to ask are perfect for starting a conversation but we get it…
Starting a conversation can be tough. Sometimes you can't think of any questions to ask and every time you try to keep things moving, the conversation fizzles and you're left awkwardly looking at your surroundings.
Maybe you're dealing with some anxiety or maybe you simply can't seem to find a way to connect with the person you're talking to.
Good news. Humor is your friend!
Everyone loves to laugh and doing so has a number of benefits, including making us feel more comfortable when we're nervous. And even if you're not known as "the funny guy", if you keep a few of these funny questions to ask up in that noggin of yours (or even whip this article out when you're with company), you'll always have something hilarious to say.
For me, being funny is one of the most important qualities a man can have so I'm going to include plenty of links, my own jokes, and tips to being more approachable and fun to be around. I've broken this list down into more digestible parts so feel free to skip around or read it all the way through.
Contents
10 Best Funny Conversation Topics
Before you talk to someone, you have to know what you're going to talk about. So you'll need some conversation topics, which should be relatable enough that anyone can say something about them. Depending on where you want the conversation to go, there are countless conversation topics to choose from, from the basic getting to know you questions to the existential.
But you're here to be funny. So here are conversation topics to get your mind geared towards the silly and ridiculous. In general, you're going to have more success with these questions if you have your own story to share.
Here are the 10 best funny conversation topics:
1. What's your biggest kitchen fail?
PSA: Never put water on a grease fire. Here's why. And another example.
2. Have you ever sent a text message to the wrong person?
Well this is embarrassing…
3. What is the most embarrassing thing that happened to you in school?
Maybe that dream where you forget to put on pants actually happened to someone.
4. What is your signature dance move?
Exaggeration is key when demonstrating. The more ridiculous you look, the better.
5. What is one thing you refuse to share?
If he/she doesn't want to share it, you'll have to share something first.
6. If you could kill off any character from a current television show, who would it be?
GoT spoiler alert: The Boltons are dead, thank goodness.
7. If you had the power to shrink anything and take it with you, what would you do with it?
You could shrink an encyclopedia and be the coolest kid in town.
8. If you could make a rule for a day and everyone had to follow it, what would it be?
Everyone has to wear their underwear on their head.
9. What's a holiday that doesn't exist that you'd like to create?
Christmas + Thanksgiving + Halloween + New Years = One great party.
10. If you had to give up one thing for the rest of your life, would it be brushing your hair or brushing your teeth?
Matted hair or funky breath? Hmmm.
15 Best Funny Conversation Starters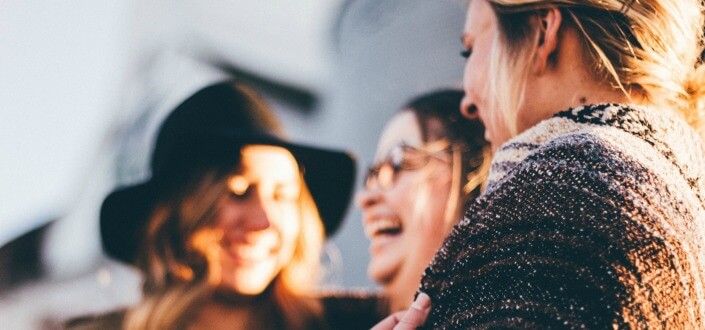 You're not going to start a conversation without conversation starters and using funny conversation starters is a perfect way to get the ball rolling.
They open up the conversation to new topics and will make your conversational partner more comfortable knowing that he/she doesn't have to think up new things to talk about (especially if he/she has social anxiety). Plus, everyone loves a guy who can make them laugh!
Here are our 15 best funny conversation starters:
11. If I were a pair of shoes, what kind would I be?
Some dirty, stinky sneakers or the loveliest pair of high heels?
12. Would you rather be a hobbit or an elf for 24 hours?
Elves were high society. On the other hand, six meals and walking around New Zealand barefoot would be pretty cool.
13. Would you go streaking across a football field during a game for a million dollars knowing there's a 50/50 chance you'll get arrested for indecent exposure?
Streakers bring fans together. Would you be willing to face the consequence for the greater good?
14. What is the craziest thing you've ever done?
This one will never fail to bring about a good story.
15. If you could have an unlimited storage of one thing, what would it be?
I've always wanted magic pants. Whenever I need something, I could just pull it out of my magic pants pockets.
16. If you could only eat one food for the rest of your life, what would it be?
I choose sandwiches. The possibilities are endless, really.
17. How much would you pay a hacker threatening to release your browsing history to your friends and family?
One of my favorite Black Mirror episodes touches on this.
18. If you had to replace your hands with something other than hands or claws, what would put at the ends of your arms?
Chainsaws? You'd never be able to pet puppies again…
19. After you survive the apocalypse, what will your job be?
Someone has to repopulate the earth. Might as well be you.
20. If you had to become an inanimate object for a year, what object would you choose to be?
I love lamps.
21. You are about to get into a fight, what song comes on as your soundtrack?
This one for me. Every time.
22. What set of items could you buy that would make the cashier the most uncomfortable?
Lots of establishments have pictures of employees on their walls. Take the cashier's picture from the wall, go home and make a bunch of copies, return to the store and put those copies in a handful of picture frames, then buy those picture frames. That should do it.
23. I've been thinking of starting a cult. What kind of cult should we start together?
This works best if you say it completely out of the blue.
24. What movie completely changes its plot when you change one letter in its title?
You could go on and on with this one.
25. What mythical creature would improve the world most if it existed?
Some are more dangerous than others. What would the impact be?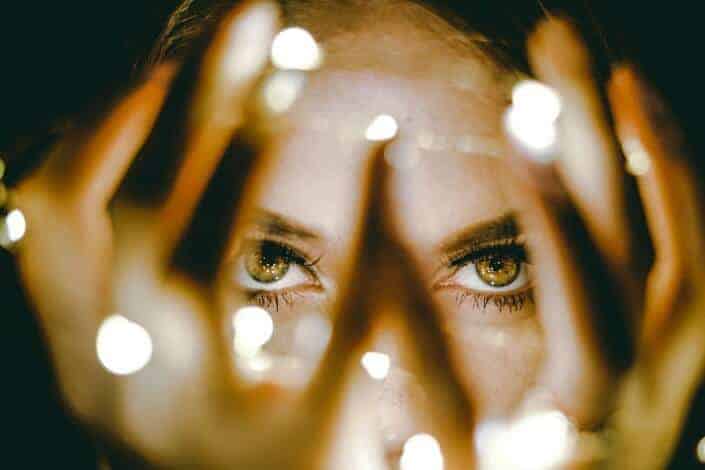 14 Best Funny Would You Rather Questions
Would you rather questions are ridiculously fun to ask. They're perfect for delving into your conversational partner's mind and steering the conversation into a more absurd and hilarious direction.
They basically boil down to asking, "Would you rather [option A] or [option B]?"
I've never found a question that fails to make me laugh but our post on funny would you rather questions is another great resource to enhance any conversation.
Here are the best 14 funny would you rather questions:
26. Would you rather have to eat a bowl full of crickets or a bowl full of worms?
Do you prefer crunchy or chewy? You might have options, depending on the rules.
27. Would you rather shoot spaghetti out of your fingers or sneeze meatballs?
Always carry a can of Prego in either scenario.
28. Would you rather sweat melted cheese or always smell skunk?
You're going to smell a stink either way.
29. Would you rather always say everything on your mind or never speak again?
A tough choice if you have a busy mind.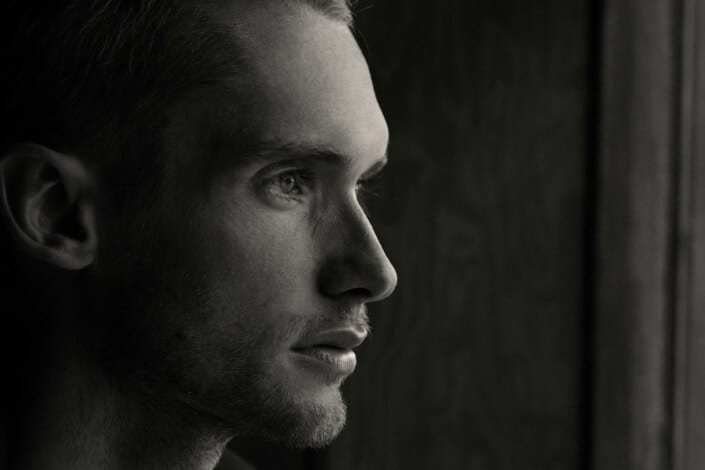 30. Would you rather have nosy neighbors or noisy neighbors?
Parties every night or constant prying?
31. Would you rather live where it is constantly winter or where it is constantly summer?
Bundle up or take it all off?
32. Would you rather eat a stick of butter or snort a tablespoon of salt?
Both would be absolutely terrible.
33. Would you rather have a third eye or a third arm?
Would you rather have sunglasses or shirts be obsolete?
34. Would you rather only be able to whisper or only be able to shout everything?
Annoy everyone by shouting or be annoyed that no one can hear you.
35. Would you rather have your house under construction for rest of our life or have an annoying neighbor who rings your bell every 2 minutes in the day?
This one made my blood boil.
36. Would you rather eat raw egg for rest of your life or sleep in a bath tub filled with egg yolk?
Whatever you choose, at least you'll have a protein-rich breakfast every morning.
37. Would you rather have half of your head shaved or without one eyebrow?
Either can be trendy if you're hip enough.
38. Would you rather hear a boring literature lecture from the most boring teacher of the college or dance on a sexy number in front of the class?
Your doodles in class won't doodle themselves but you could be a legend among your classmates if you're not afraid to boogie.
39. Would you rather become a dog every night or have a beast as your husband/wife?
Who's a good boy?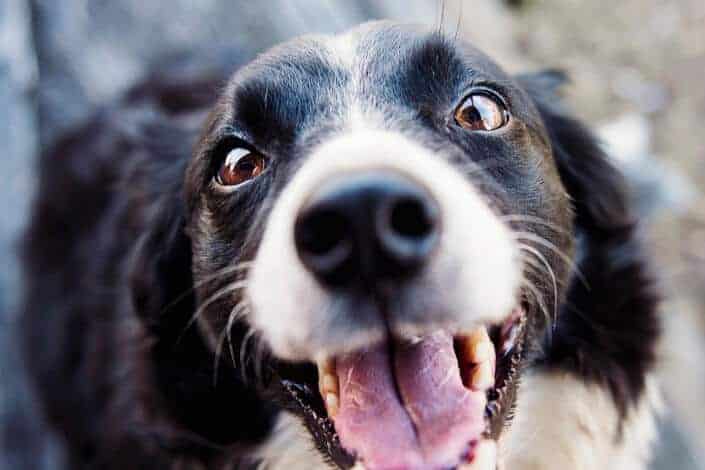 14 Best Funny Questions to Ask a Girl
So there's a girl you like. She's cool, she's great, she could be the one.
Do you have any questions to ask a girl up in that brain of yours? You should. Otherwise you'll be sitting across from each other, looking at the decor of the restaurant you couldn't actually afford to take her to.
And funny questions to ask a girl are hilarious and bound to keep her interested.
Here are the best 14 funny questions to ask a girl:
40. Can you describe your boobs using only a SFW picture of them?
The only time this could backfire is if she doesn't have a sense of humor.
41. Are you accepting applications for a boyfriend?
It's a funny way to seal the deal if you know if a girl likes you.
42. Would you still talk to me if my face looked like this?
Use your hands to smush your face together for a giggle.
43. What is the craziest thing you've ever done?
Young and wild and free.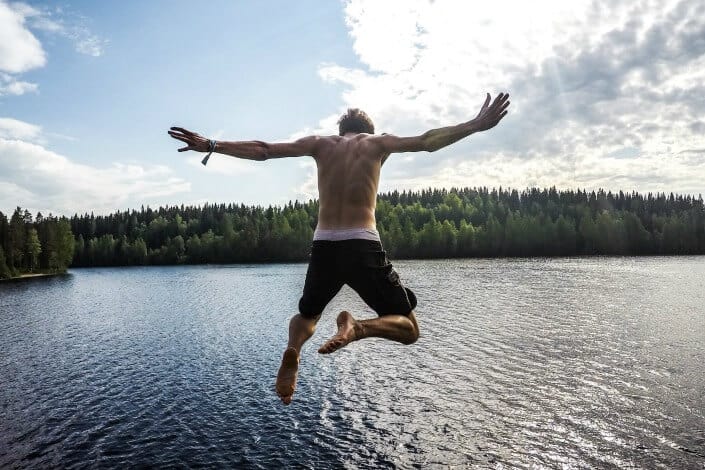 44. What is the strangest thing that has ever happened to you?
Ghost story or odd encounter with a stranger?
45. If you suddenly found out that your internal monologue for the last week was actually audible, how screwed would you be?
And everyone pretended they didn't hear you. Spooky.
46. How do you feel about putting pineapple on pizza?
Because that's what's for dinner.
47. What two totally normal things become really weird if you do them back to back?
48. What ridiculous and untrue, yet slightly plausible, theories can you come up with for the cause of common ailments like headaches or cavities?
The little people are mining your teeth for Fluoride so they can power their homes in your nasal cavity.
49. What secret conspiracy would you like to start?
Turn the friggin frogs gay.
50. If you were held at gun point and told that if you didn't impress them with your dance moves you would be killed, what dance moves would you bust out?
If she knows Capoeira, she won't have to worry about it.
51. What food would be the best to make a house out of?
Food spoils.
52. Do you think about having a remote control home where you just have to speak things like ice cream come here?
Come here, boy!
53. What's the weirdest crush you've ever had?
I have a friend who is in her twenties and likes middle-aged men. You like what you like.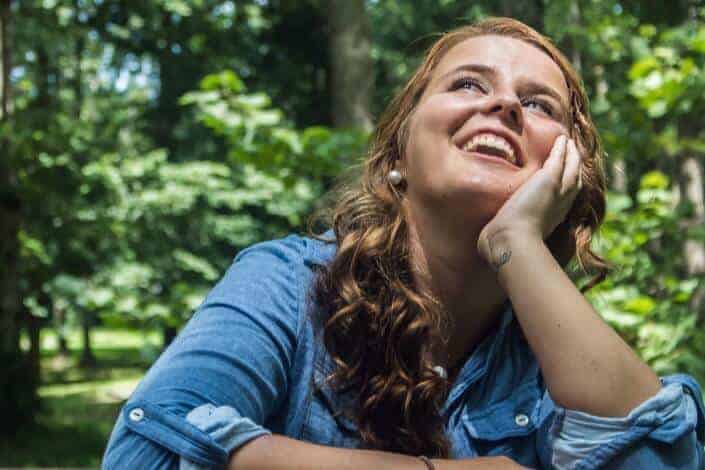 13 Best Funny Questions to Ask a Guy
Every so often you meet a guy and you have to talk to him. Maybe you're on a double date and your girlfriend really wants you to get to know her best friend's new boyfriend or maybe you're in a study group and don't have any prepared questions to ask a guy but your entire group is comprised of guys.
No need to worry. We're all a bunch of boys at heart and just want to have a good time.
Here are the 13 best funny questions to ask a guy:
54. What song would you play on repeat if you wanted to infuriate someone with music?
Don't worry, I'm not going to Rickroll you again.
55. What's your favorite animal sound?
Wait, what does the fox say again?
56. What would you choose as your animal sidekick if you were in a movie?
Every guy needs an animal sidekick.
57. What's the worst date you've ever been on?
We've all had at least one.
58. If you had to do one for a week, would you rather paint your nails hot pink or wear eyeliner?
Eyeliner really brings out your eyes and makes you look like Khal Drogo. Hot pink nails will show your manly side.
59. How would you take down Kanye West's ego?
He's a talented artist but a little full of himself. Case and point.
60. What crazy name would you give your kid if you were a celebrity?
Would you name your kid after a cardinal direction?
61. What's your biggest dealbreaker with a girl?
He might have some pointers for you.
62. If it had to be something in this room, what would be your zombie apocalypse weapon?
We've all thought about how we're going to handle a zombie apocalypse.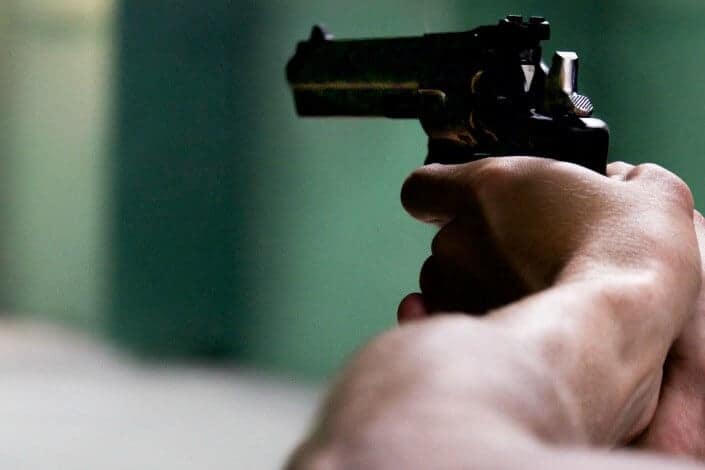 63. What was your dream job when you were five?
Depending on the dream, it could still be possible!
64. What's the stupidest way you've ever hurt yourself?
Again, we're all boys at heart.
65. What's your first executive order as king of (this coffee shop, this grocery store, this room)?
Happy Purge day! Lock your doors!
66. If you had to flee the country, where would you choose to live?
But avoid these places.
9 Best Funny Questions to Ask Your Girlfriend
You got a girlfriend. Nice work but slacking will ruin your relationship. If you stop trying as hard to make her happy as you did in the beginning, you're only going to push her away.
Remember to constantly surprise her, shower her with affection, and carry a list of questions to ask your girlfriend that you can pull out to keep her on her toes.
Here are 8 funny questions to ask your girlfriend:
67. Are you of the naughty or nice variety?
Oh, baby.
68. What is the most hilarious childhood memory you can think of?
If she can't think of any, ask her parents.
69. Sexiest animal on the planet?
Devil worms are so hot right now.
70. What is your least favorite food?
Can you return groceries?
71. If you could read minds, how would you use the gift?
With great power comes great responsibility.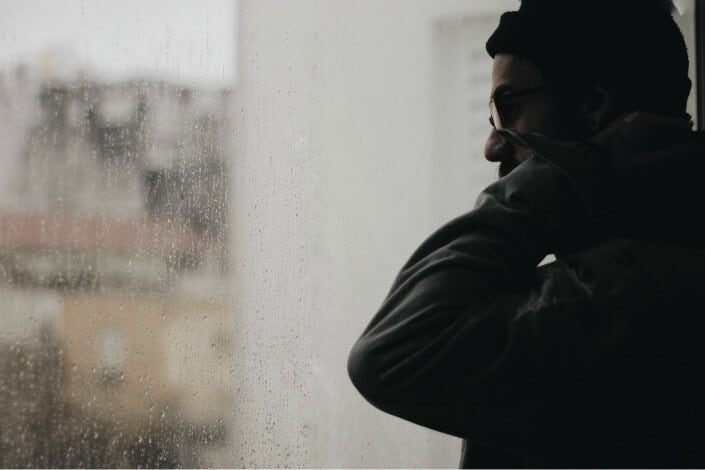 72. Are you into me?
And please say yes.
73. Which is the first region your eyes would wander to if you were to see me naked?
Seems like there's a good test for this.
74. When was the first time you got a whiff of my body odor?
Metallic isn't it?
75. If you had to have a sex change, what part of your body would you enhance?
You know what they say about big feet, don't you?
8 Best Funny Get to Know You Questions
Random encounters happen if you're social. Because I'm a writer now, I don't go outside anymore so I've almost forgotten what that's like to actually talk to people.
But you're a socialite and are constantly surrounded by interesting people and therefore have all the get to know you questions memorized, right? You might even have a few funny get to know you questions up your sleeve. More power to you!
Here are 8 best funny get to know you questions:
76. Have you ever been caught in your birthday suit accidentally?
Well stop masturbating with other people in the house.
77. If you could only skip or run for the rest of your life, which would you could?
Do they choose speed or style?
78. If you won a trip to go anywhere on earth, where would you take me?
Can we go to Italy?
79. Have you ever noticed that easy open packages never seem to open that easy?
Why do I need to use scissors to open my scissors?
80. Could you go for a week without your cell/smart phone?
They used to be so big you couldn't carry one in your pocket.
81. If you could go anywhere in the universe for one day where would you go?
I'd visit Curiosity on Mars. I'm sure he's lonely.
82. Have you ever been thrown out or banned from a public place? Why?
You don't put a playground right next to a bar. It's entrapment!
83. Have you ever skipped school or played hooky?
Some people like to live life on the edge.
6 Best Funny Dares for Truth or Dare
What good are truth or dare questions if you don't have some dares to back them up? These funny dares will have the whole room roaring with laughter. Funny dares keep the mood upbeat, even if someone just dropped a hard truth in the last round.
Sure, doing a funny dare can be embarrassing, but that's all part of what makes the classic game of truth or dare such a good time. And, embarrassment isn't always a bad thing. Temporary shame can create bonds that last a lifetime.
If you're nervous about a dare, just think about the big picture. Shame lasts but a moment, but legends go on forever. Sometimes acting a fool is the best way to mark time and create memories.
Here are 6 of the best funny dares for truth or dare:
84. Depict a human life through interpretive dance.
Close your eyes and go for it.
85. Curse like sailor for 20 seconds straight.
And then wash out your mouth with soap.
86. Drink a small cup of a concoction that the group makes.
What's worse — knowing what's in it, or not knowing what's in it?
87. Let someone shave part of your body.
What's the big deal? I mean, it grows back, right?
88. Make up a 30 second opera about a person or people in the group and perform it.
Make sure you end it on a high note.
89. Belly dance like your life depended on it.
Audience interaction is a must for any good belly dancing performance.
8 Best Funny, But Deep Questions to Ask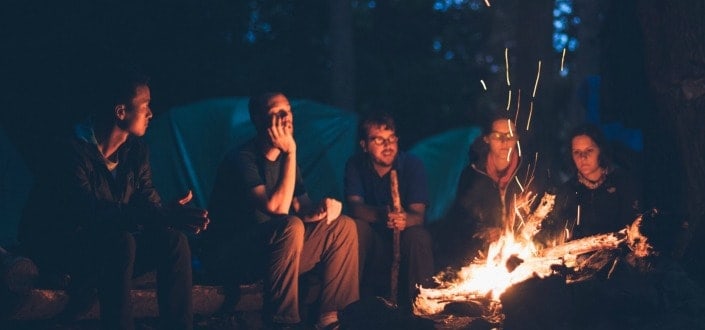 Occasionally you'll run into a person who seems to have it all figured out. Because he/she is so interesting, you have a ton of deep questions to ask but you want to be witty.
When your conversation takes this route, don't panic. Sure, you might have to think about things like you've never thought about them before, but you'll learn quite a bit about yourself and more importantly, the person you're talking to. Everyone has a new viewpoint to offer and asking deep questions is the best way to discover a new way of looking at things. Being funny about it doesn't hurt either.
Finding perspective will help you grow as a man.
So when you find yourself in a situation like this, use these 8 best funny, but deep questions to ask and you'll be excited with where they take you. They'll keep the conversation very interesting but also lighthearted and fun.
Here are 8 best funny, but deep questions to ask:
90. What would you say to your President if you ran into him randomly?
In the present day, there are two schools of thought. You love him or hate him.
91. Can you think of a movie title that best explains your life currently?
Dazed and Confused? Lost in Translation? Spy Kids 2?
92. Do you like "people watching" and can you come up with a story about them?
It's a fun game to pass the time.
93. Do you believe in the paranormal and would you go ghost hunting?
Even if you don't believe in ghosts, ghost hunting can be exhilarating and educational.
94. If you could use a time machine to go back in time to fix one thing or go to the future to see what it is like which would you do?
Be careful. Time travel is dangerous.
95. If all of a sudden there was a depression or there was no stores to buy food, clothing, etc. how would you manage?
Do you have a bug out bag?
96. Are you concerned with what other people think about you?
"Because I find you unbearable." *Wink*
97. How do you handle people you don't like?
Wedgies? Passive-aggressive comments? Try ignoring them.
How to Ask Someone a Funny Questions: 6 Tips
After reading this article, hopefully you've learned how to start a conversation and how to get to know someone by being funny. Here are 6 tips to ensure you get a laugh.
Here are 6 tips how to ask funny questions:
1. Be confident
Confidence is key when being funny. If you believe your jokes are funny, so will everyone else. Unless they're not funny.
2. Make jokes around your questions
A funny question is only funny in and of itself. Add more to it by cracking jokes.
3. Flash a cheeky smile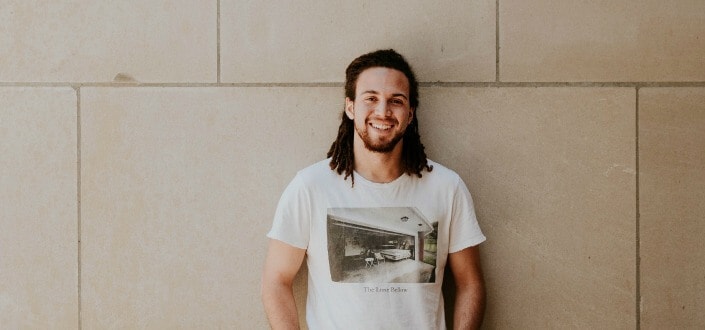 After you ask a funny question or tell a joke, shoot a sly grin or wink towards the person you're talking to so they know you're joking.
4. Say aloud what comes to mind
You may think of some dark jokes. Blurt them out! Being funny requires pushing the envelope.
5. Time your jokes
Timing is one of the most important aspects of being funny. If your timing is off, your jokes fall flat. Watch some comedians for pointers.
6. Laugh and have fun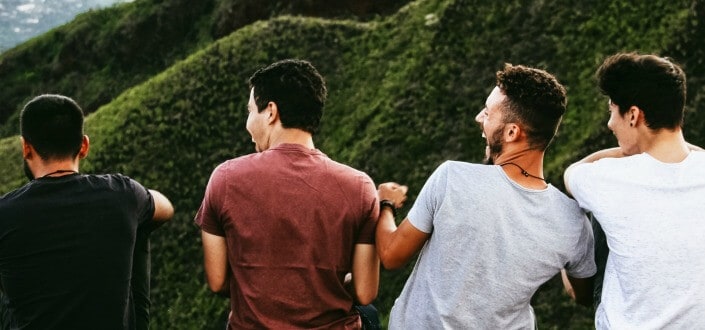 These questions are supposed to make things easier for everyone involved! So relax and enjoy yourself! You've got this.
Downloadable List of Funny Questions To Ask
Here is a downloadable list of funny questions to ask (right click the image and select Save Image As…):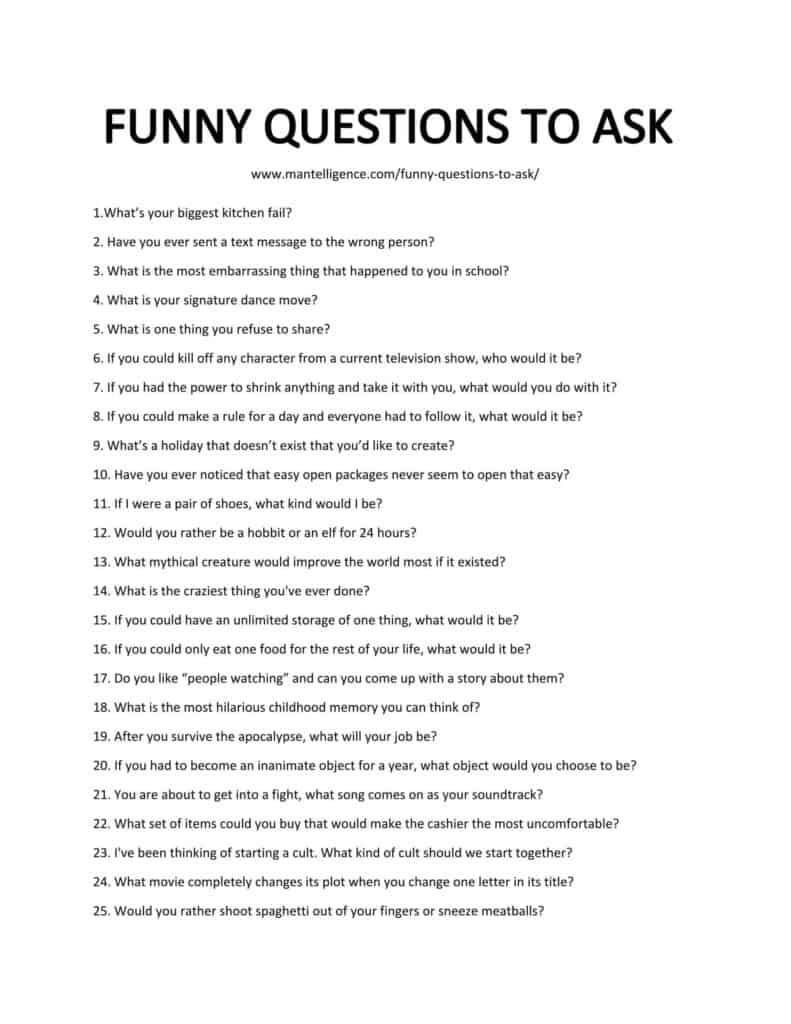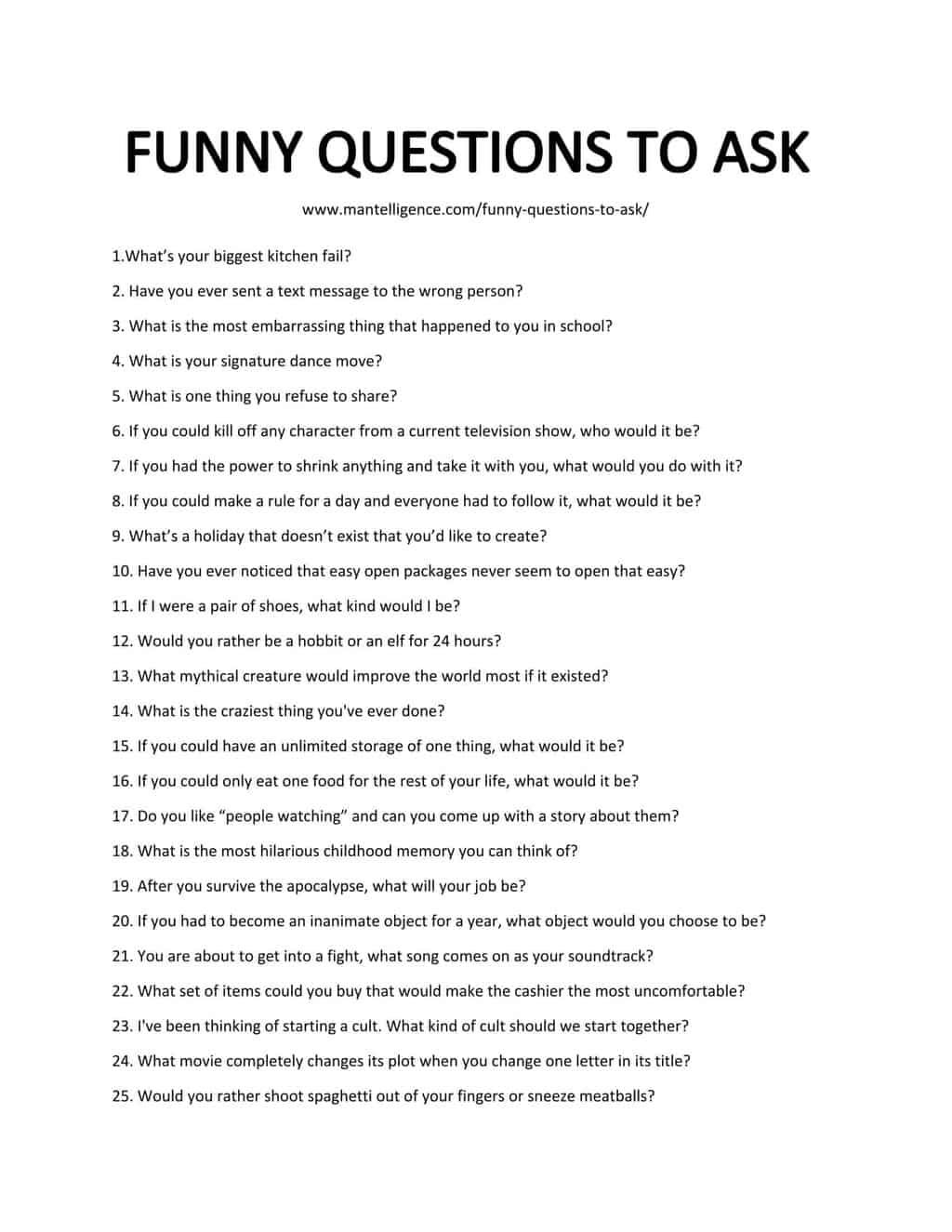 In Conclusion
Feeling funny yet? Hopefully these funny questions to ask will be the building blocks that will lead you to countless hilarious conversations.
Maybe you're still nervous. That's okay.
Just remember the tips, pay attention to funny people and learn their methods, and allow your thoughts to flow into the absurd and you'll surprise yourself with just how much you can make people laugh with the right questions to ask.